A real treat for gear heads this month as we take a look around the fabulously well-specc'ed studio of sound designer and techno artist Richard Devine, who's about to drop a new EP at the beginning of November.
'Systik' by Richard Devine is released on November 11th.
Richard Devine is on Facebook and Bandcamp.

Main Studio
This is the control mix centre of the room. The desk is a
Sterling Modular C
, with 3 easily accessible rack bays. This is where most of my tracking, mixing, and mastering happens for all my work. The setup is built around the
Dangerous Music
Complete Mixing & Mastering System. I also have a few of my favourite hardware outboard pieces, like the Manley Stereo Variable Mu Limiter Compressor, API 2500+, Maselec MLA-4, and Black Box HG-2.

Acid Set-up
This is the actual setup that I used to record my new EP "Systik".  I used the Roland TR-8S and the SBX-1 as my main sync box to clock my two 303's, drum machine, and modular together. I used the Synthrotek MST MIDI to CV module which can take either USB or MIDI clock input and convert that to MIDI clock or Gate output to my modular. I then multiplied the clock signal to a 4ms Quad Clock distributor module that could either run 4 extra clocks at multiplications or divisions of the master clock signal. I then took that signal and sent it to the Tiptop Circadian rhythms and Winter Modular Eloquencer that did a lot of the internal glitchy broken patterns triggering two 1010 music Bitbox sampler modules and one ER-301.
I also used this module by North Lights Modular called "EvenMidi 3U – Model euEM V2. This allowed me to control two Eventide H9 effects pedals with control voltages that could animate in time with my tracks. There are 10 CV controls, and I would separate 5 controls for each pedal that each 303 was running into. So I had the ability to really creatively move and control the reverbs and delays in interesting ways.

Acid Station
This is the Roland Acid station setup mainly comprised of 5 303's, TR-09/TR-606 (modified), TR-08, SH-01A, and Soma Pulsar-23/Lyra-8. I set this up for programing multiple 303 patterns for the record. I do a lot of sketches here, then will pull out specific pieces of gear from here to use in a composition.

Eventide Rack
This is a newer rack I completely built up and customized that houses two Roland System 1-m's, Kyma Pacarana system, Korg Radias, Eventide H9000 with the Northern Lights Modular rEM 1U rack midi/CV controller for my H9000. I have also built up a custom modulation rack just to automate all the various controls on the H9000. It's great as I can either use it as a general midi controller utilizing the front 10 knobs to control the H9000 patches or I can use control voltage with the single Tiptop Eurorack case beneath it. I selected a wide variety of modulation sources here to help me quickly find cool interesting sweet spots within the H9000 algorithms. With this setup, I have endless sound design possibilities between this and the Kyma system.

H9000 and MakeNoise
Often times I will pull out the H9000 and Northern Lights Modular rEM 1U rack to use with a completely different system like you see pictured here with a MakeNoise Shared system. I find it really fun to switch up the routine and try completely different combinations of gear to get new sounds and results.

Instruo
My Instruo modules are placed inside one of my newest Eurorack cases. Some of my favourite new modules from this company include the "Arbhar" Granular Audio Processor and the "Lubadh" Dual Tape like looper module. I also use the "Scion" which is a Quad Random Voltage Generator / Biofeedback » CV. It translates biofeedback data, sourced from contact with organic surfaces, into musically useful control signals. Tiny fluctuations in surface conductance on organic materials stimulate control voltage and gate signal changes that can be used to modulate and permutate your patch. Dynamic control over biofeedback sensitivity allows you to quickly adapt any input source to a useful range of responsiveness.

Keyboard Rack
I just recently updated several of my keyboards stands from Jasper's in Germany. This configuration consists of some of my favourite analogue polys, like the Prophet-6, OB-6, Novation Summit, and Moog Sub-37. There is also a custom rack housing my favourite Roland Boutiques JP-08, JU-06, and JX-03. Underneath that housed in the two rack bay spaces is my Nord G2 rack (expanded) with a Mio10 by iConnectivity.

Keyboard Rack 2
This rack consists of some of my all-time favourite synths. At the top is the Moog Model-D reissue, serial number 003. Underneath that is my favourite from the Roland analogue poly's Jupiter-6 with the Europa mod. Then underneath that is the Waldorf Quantum Shadow Edition serial 003 one of only 30 in the world. The synth at the bottom is the new Sequential Circuits Prophet-5 Rev 4, also serial number 003. You are probably wondering why I like number 3. Three is the smallest number we need to create a pattern, the perfect combination of brevity and rhythm. … It's a principle captured neatly in the Latin phrase omne trium perfectum: everything that comes in threes is perfect, or, every set of three is complete. 🙂

Modular
This is my main Eurorack system that everyone sees in my videos and pictures. It's two custom cases built by Matthew Goike. Here I usually have two to 3 patches all running at the same time. I often sketch up many ideas here that sometimes turn into full tracks. I have this system set up in a very specific way where the sequencers are set up at the bottom then CV control modulation sources on the top row. Then filters and odd CV controllers then oscillators and sound sources placed at the top.

Pulsar 23
This is one of my favourite two pieces of hardware gear that I recently picked up from Soma Laboratories in Russia. I would say the Pulsar 23 organic drum machine is one of my favourite pieces of gear to come out in the last year. An incredibly fun environment for creating new sounds. I have been using this machine pretty heavily in a lot of my recent compositions and design projects. Above the Pulsar-23 you see the Red Pulsar Buddy which is a stand-alone clock follower/divider/generator. It is designed to work with SOMA Laboratory's new Pulsar-23 synth, enabling its looper to work in odd meters like 13/16, as well as generate tuplet triggers for things like 3:2 and 5:4 polyrhythms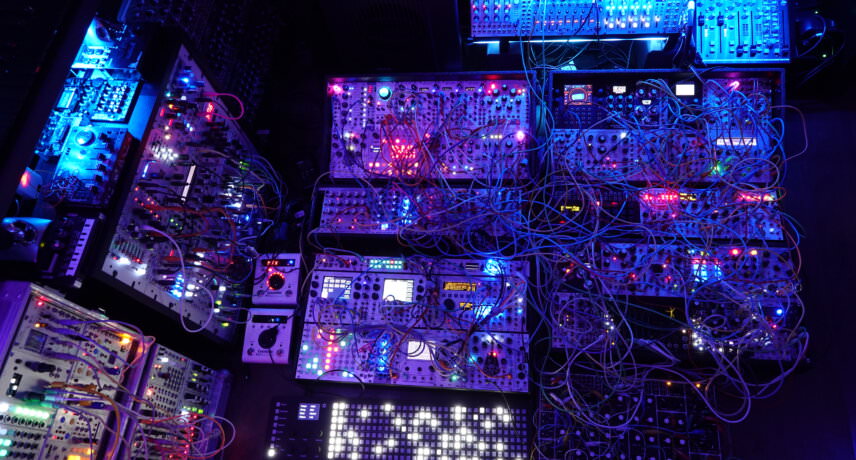 Modular On The Floor
This setup is commonly seen in a lot of my videos, as I love to patch on the floor. I often set up smaller systems that I piece together to make a lot of my recent compositions. I typically call these floater cases as they usually just float around my floor to different areas that I patch around to different vertical upright systems. Typically I will set one case to be the main clock then send or share that clock with other cases. I also love using the Polyend Sequencer located in the lower-left corner with the white gird LEDs. This has been a really great setup for generating new polyrhythmic sequences and regenerative beats/melodies.