"Plotting aggressive moves that lead to further world domination." Yeah. We let PTA go wild with the studio tour.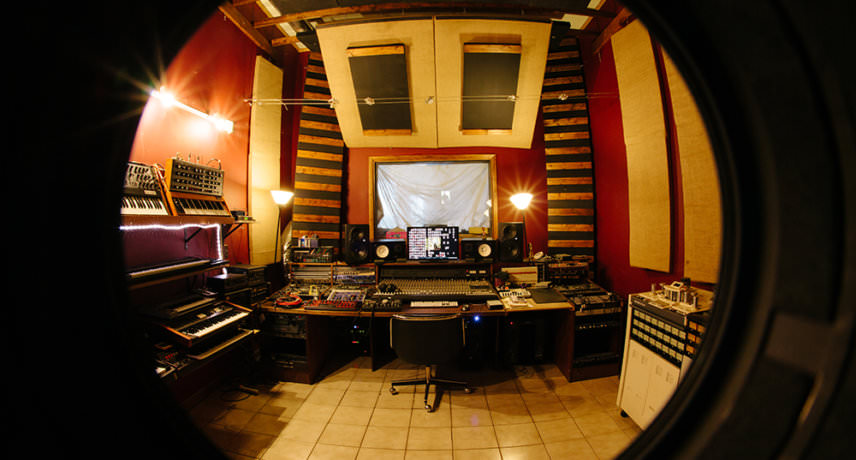 Pittsburgh Track Authority – My Studio
Machine Age Studios is the headquarters of Pittsburgh Track Authority. Located in the historic Polish Hill neighbourhood, it provides a central location for all of PTA business. In addition to our own material, we record bands and other artists here, including younger dance music cats like Gusto and Naeem, DJ Depth and Clark Price. Established producers Shawn Rudiman and Chase Smith also work out of their own rooms within Machine Age.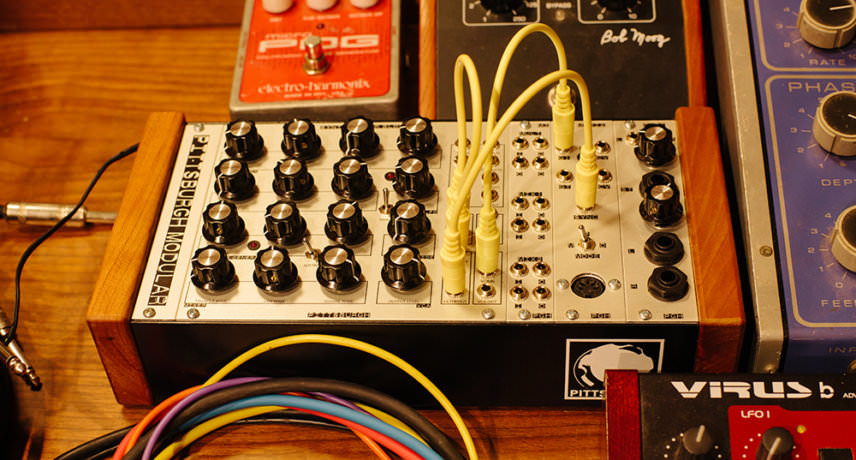 Pittsburgh Modular System 10
This is the Pittsburgh Modular System 10 Synthesizer. Currently at the studio for testing, it has already been used for funky lead sequences on a bunch of techno tracks that we just finished and are now being beaten to death by a few select DJs and will see release very soon. Keep an eye out for 'Supercell'. This synth is cool because it's technically semi-modular, which means it's hardwired to work in the most straightforward manner when no patch cables are in use. It also takes MIDI, which is awesome. Richard and Pittsburgh Modular are doing really great stuff right in our city!
Also, you can see part of the Mutron Bi-phase and the Moogerfooger MF-102 Phaser, both of which are quite serious sounding. We like to use those for thickening up pads or adding some motion to static percussion parts, like on 'Monongahela Rainforest'. You'd have a difficult time finding better sounding phasers than these two right here.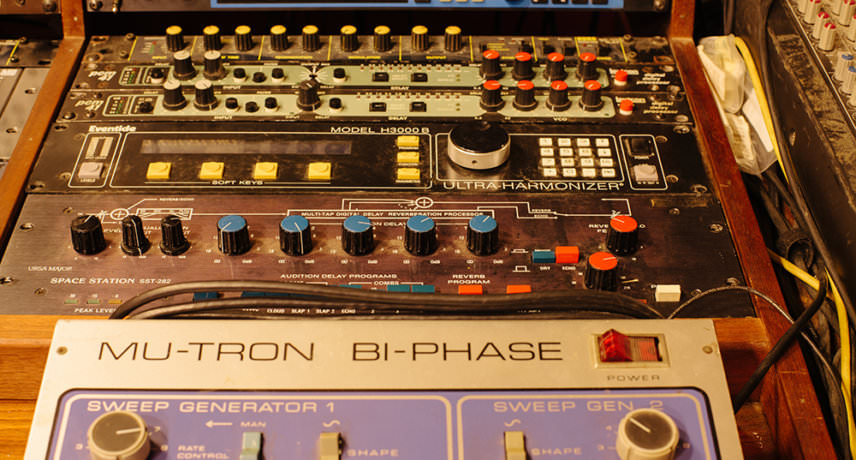 Effects Rack
Here's part of our effects rack. We love dub music, so we go heavy on the reverb and delay units like the Lexicon PCM41. Probably the most interesting one here though is the Ursa Major Space Station. We bought it from Todd Sines a few years back, and it's been absolutely abused on so many tracks that it's hard to even pick one example. It's a very early digital delay that has many cool rhythmic patterns and a sweet sound.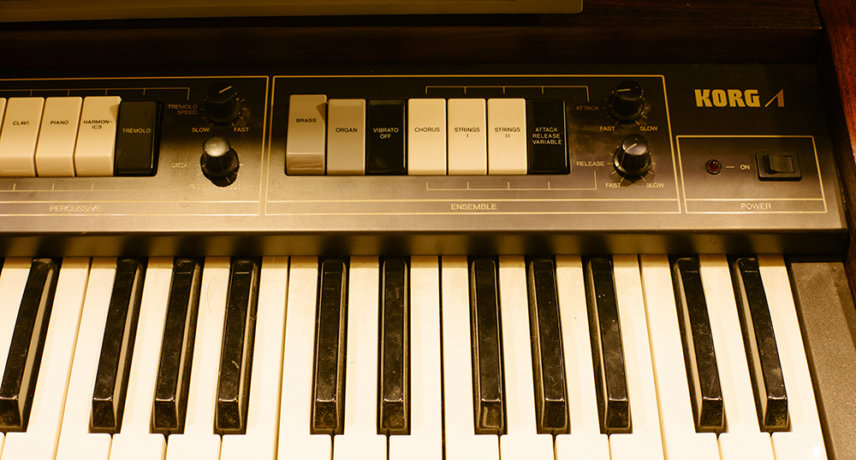 Korg Lambda
PTA jams often feature big string lines, and we use a variety of string synths, sometimes layered on top of one another, to get those sounds. This is the Korg Lambda, one of the most. It's quite versatile, with many instruments selectable and modifyable in a way that allows it to fit into the mix very easily. It even was used for a few of the lead lines on 'Crosstown Blvd'.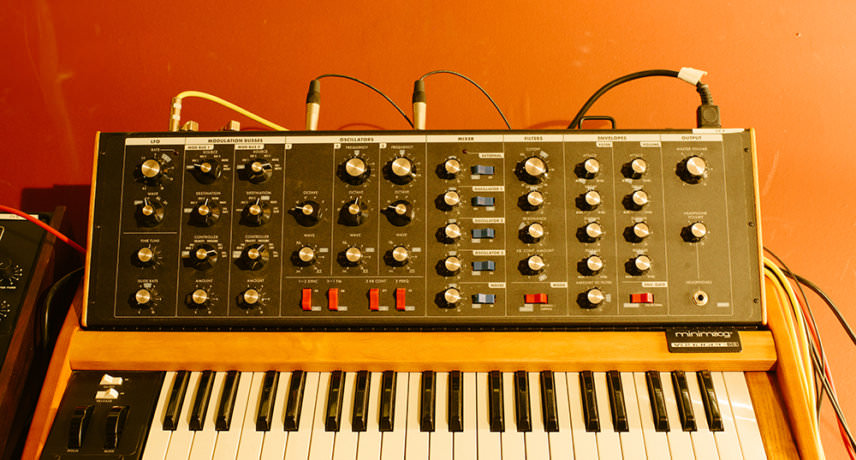 Minimoog Voyager Old School
Ah, the Minimoog Voyager Old School. This was one of the last units of this model that Moog produced. It is old school because it has no MIDI, and none of the touchpad interface of the standard Voyager. It's more like a recreation of the old Minimoog. This particular synth has graced nearly every PTA jam in some shape or form, usually on baselines like 'April Boogie'.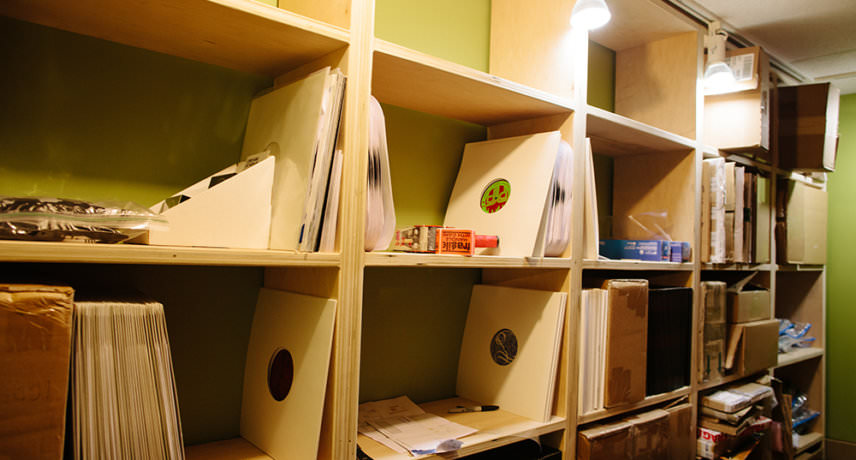 Backstock, Merchandise, and Shipping Supplies
Machine Age Studios also doubles as home of our record labels Pittsburgh Tracks, Love What You Feel and Machine Age Records. Here you can see our custom-built shelving (built by another Machine Age Studios resident, Jason Kirker) that holds all of our backstock, merchandise and shipping supplies.
We've released 16 vinyl records in a little over two years, including our debut double album Enter The Machine Age. Up next we have a record by a project called Raw Ten that we are doing with Nic Offer from !!! which features a sick remix from a dope Detroit artist, as well as a deep vocal house record by a young French cat called Toc Outlander.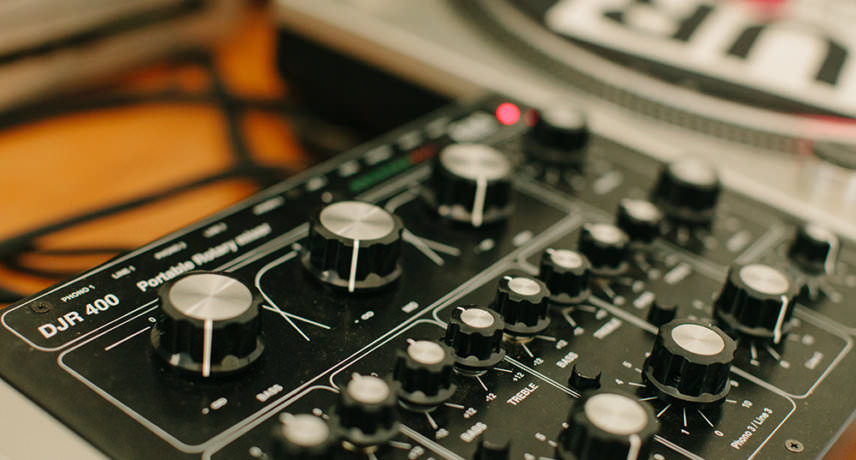 E&S DJR400 portable rotary mixer
All three of us have been DJs for even longer than we've been making our own music, so we had to get the sickest DJ mixer we ever played on. People probably are familiar with this one by now, but it's the E&S DJR400, a portable rotary mixer with built-in isolator. The sound quality of the preamps is excellent, and the isolator is perfect for great knob-twisting face-making. We take this on the road with us any time we can, and use it at our residency at the Hot Mass afterhours in Pittsburgh.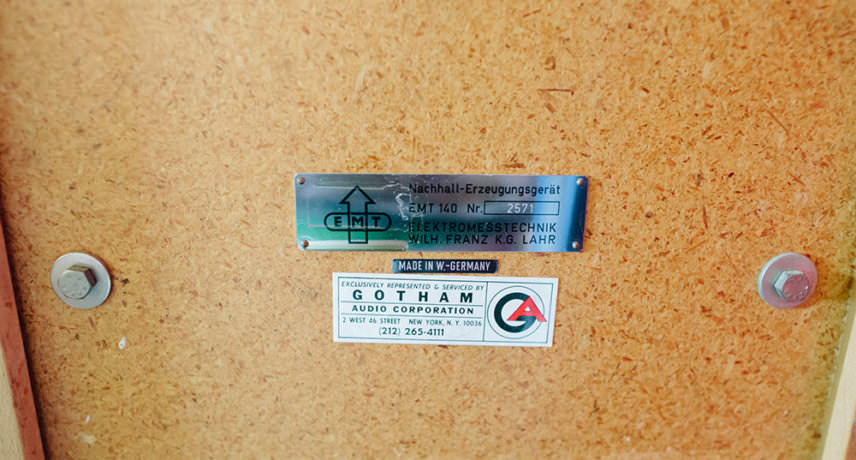 EMT 140 plate reverb
Probably one of the most distinctive pieces in Machine Age is this EMT 140 plate reverb. Yes, a real plate reverb. It is vintage, huge, and it sounds absolutely amazing. All you can control on this is the reverb time, which goes from half a second to four seconds. We like to use it in part of an effects chain with various delays and phasers. This has appeared on every single PTA record! An essential link in our sound.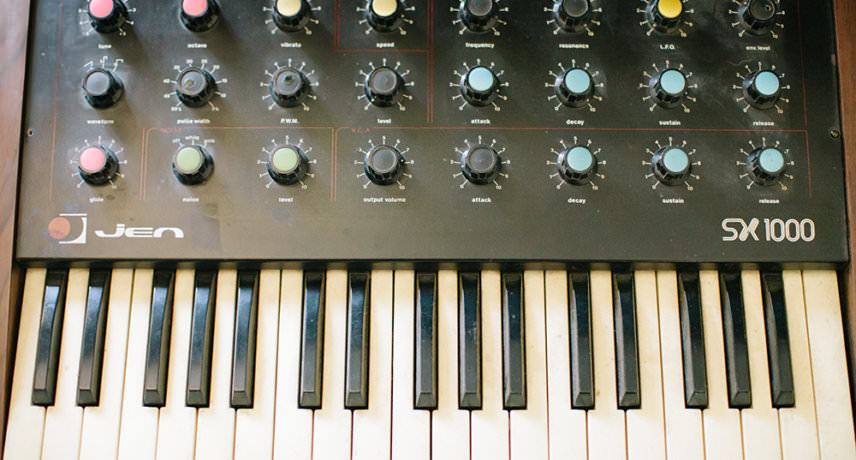 Jen SX-1000
The Jen SX-1000 is an uncommon monosynth. We like to break this one out for non-resonant leads that sound like something from outer space. Madlib has one of these and it was notoriously used by The Future Sound of London in the 1990s.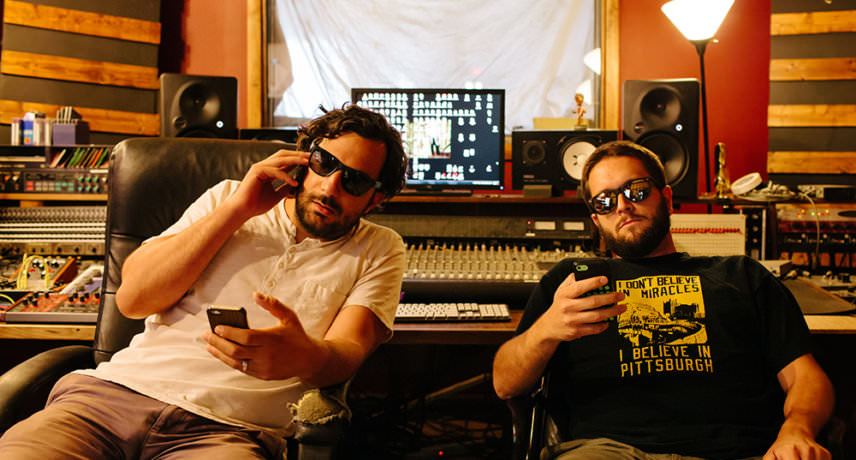 Public Relations Department
The PTA Public Relations Department. Of utmost importance to us while working in the studio are our trusty smartphones. Running our labels, taking care of all internet duties, keeping in touch with collaborators, and plotting aggressive moves that lead to further world domination through Facebook and Twitter are all things we must tend to 24/7. This is our job, working 9-5 in the studio every day making music and taking care of business.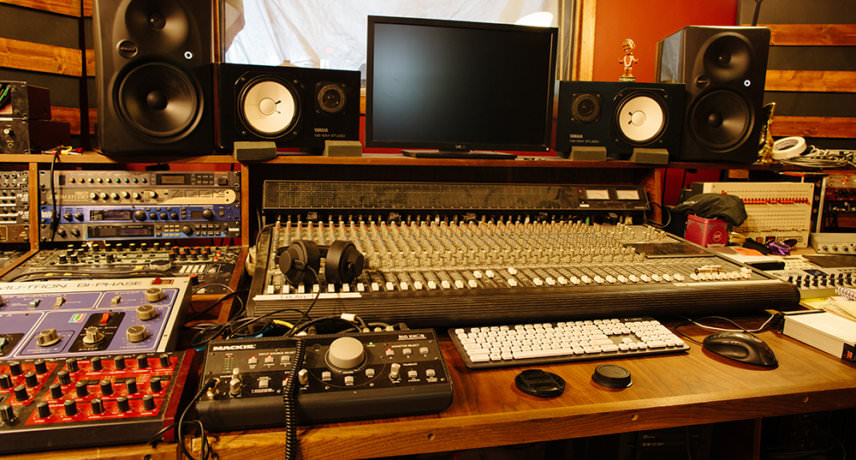 Custom PC, Mackie 32-B, Lynx Aurora Converters
The center of Machine Age Studios! A custom PC running Cubase with a Mackie 32-8 acting as routing before the Lynx Aurora converters. Over the past 10 years since Preslav started Machine Age Studios with his long-time friend Joe Bartolotta, there have been multiple consoles occupying this space, from Neve to Trident to Tascam and back to Mackie. In this current setup we monitor with Mackie HR824s, Yamaha NS-10s, and AIAIAI TMA-1 Studio headphones, all connected through the Mackie Big Knob for easy switching and volume control. Every piece of gear is connected through patch bays so we can route and record things in whatever manner we please. We use lots of outboard like Neve and SSL preamps for tracking instruments and vocals, with Ampex tape machines adding an analogue touch before multi-tracking into the computer. We like to use the best of all worlds in our quest to make hi-fi dance and crossover jams.
PTA's Enter The Machine Age LP is out now. Find them on Facebook, Twitter and SoundCloud. Or just get mad at Tom's Attack columns here.