The Soulfooled head honcho opens the door to his recently refurbished studio to talk us through his key pieces of kit including an old Grundig TK 747 2-track tape recorder, Yamaha Clavinova and TC Helicon VoiceLive.

My Studio
My studio is located on the ground floor of my apartment. This is the first photo I took after the room-in-room construction work was finished and the acoustic elements had been integrated. There are absorbers on the walls and ceilings,  movable bass traps at the back of the room and a thick Persian carpet from my father's office on the floor. This makes the room comfortable and at the same time it absorbs the sound. I'm pretty happy with the whole setup, which helped me a lot sound-wise when producing my album Paranoid Funk. The table is custom made and is affectionately called The UFO.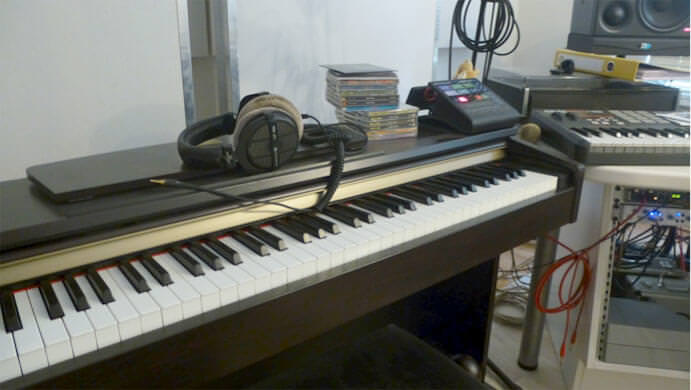 Yamaha Clavinova
I started playing the piano when I was four years old. After building the studio, I decided to exchange my real KAWAI piano for a more practical Yamaha Clavinova with MIDI output. It's great to be able to play virtual instruments and plugins on a real piano.

Monitors
I have a pair of Genelec's 8050. For producing EDM, I usually use them as their sound is pretty perfect when it comes to producing club music. I don't really need a subwoofer as their frequency spectrum shows my ears all they need to hear. Last year I also bought two Klein+Hummel O 300s (on the right). I mainly use them for post-production, pop music and jingles for commercials. They are softer but still precise. When it comes to lower frequencies, which are very much needed in modern productions, they are a bit weak. The perfect addition is the K+H subwoofer. I also have some old Yamahas (left), which were my first monitors. I still use them as a reference. If a song sounds well through them, it usually always sounds well.

Mac Pro x 2
These are my two Mac Pros. The first one I got had a dual core processor and I worked with it until last year. Now, I only use it as backup machine. My main studio computer is a 16-core with 32GB RAM. It's a real race-machine; perfect when you work with a lot of sequences and plugins. Audio goes into the Mac via an RME Fireface 400, which I've been using for a few years. I've never  had any trouble with it. The little black box on the left is a foot switch, which I use to activate and deactivate the subwoofer.

Dave Smith Mopho
The Dave Smith Mopho is a small but bad-ass synth. I mainly use it to create warm atmospheres or for  analogue leads and top-lines. You can hear it doing its thing on tracks like 'I Don't Care' and 'Back2Basics'.

TC Helicon VoiceLive
The TC Helicon VoiceLive is primarily designed for live performances, but it's a useful studio tool too, providing great effects on vocal recordings. People like Snoop Dogg, Kelis and Maceo Plex are fans of it. I've used it on several tracks, including 'Easy Love' and 'Don't Wait'.
For vocal recordings the AKG C414 XL II is my go-to microphone. I worked with it when I was studying and since then I've never wanted to be without one. It's great to be able to switch the polar pickup pattern to suit what you're recording.

Akai MPK49
For controlling external and internal gear I use the Akai MPK49. I also use its keyboard to trigger sounds and for jotting down early melodic ideas before playing them properly on my Yamaha Clavinova.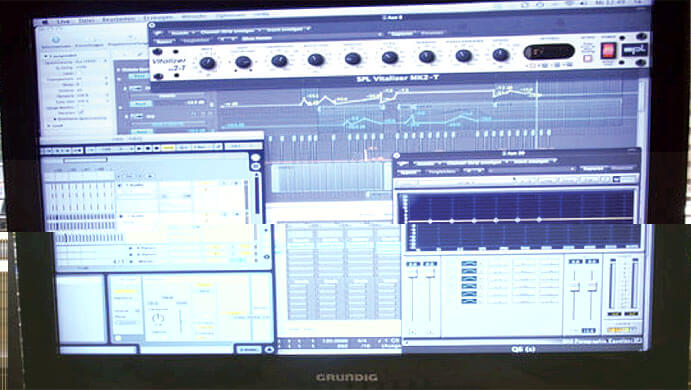 Logic
I use Logic 9 as my main sequencer. Sometimes I also use Ableton Live via ReWire. I've got range of quality plug-ins from SPL, Waves, Sonnox, Arturia and Native Instruments that help me perfect my sound. This picture shows how much automation I do – I use the knobs and faders of the U-control to help program that while arranging.

Grundig TK 747 2-track
This is an old Grundig TK 747 2-track which I found in my father's cellar and fixed. Finally I can get a real vintage sound. I just record onto it and then route the output back into Logic. I don't use it on everything but sometimes it's the only way to get an authentic vintage sound.

Decks and disc
Last but not least, I like to have my DJ setup in the studio as well. My studio is my creative basis, which I use to listen to promos, demos and other stuff.
(Oh, and on the wall between the speakers you might be able to see one of the first copies of Kraftwerk's Autobahn).