Drum machine obsessives Bottin and Leo di Angilla show us some highlights of the collection in their hardware-packed Venice studio.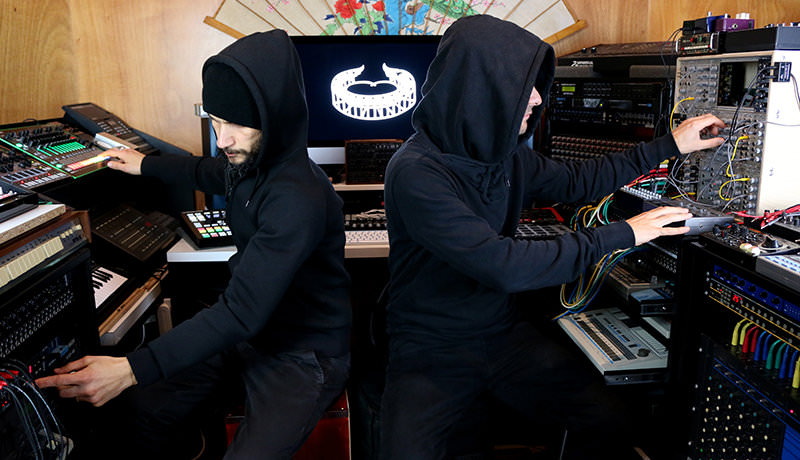 Deardrums – My Studio
We make our music at Analog Playground in Venice, Italy. It's part of Waterland, the only music studios in central Venice (hence on the water, not the mainland). More than a production studio, Analog Playground is a vintage drum machine collection – what's different from most collections is that here everything is hooked up and ready to be played and recorded.
Leo is a professional percussionist and he put together this analogue drum machine collection. When Bottin found out about his friend's secret room, he immediately asked him to create a project around it. All the sounds on the record were generated here, even basslines and melodies come from fine-tuned analogue drum synthesisers. This is what Deardrums is about.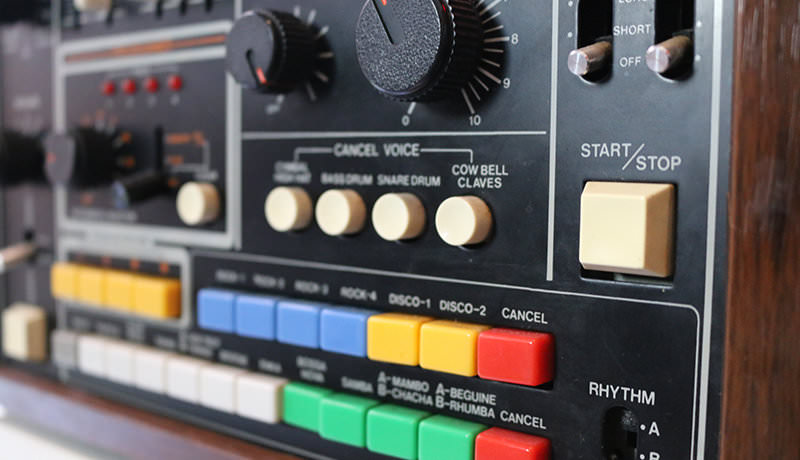 Roland CR-78
This analogue drum machine has some internal faults that give it an interesting hiss. We used it for a track on Deardrums EP1 called 'Rhythm Comp'. We built a whole song around a live performance of the machine – basically we did one long take of us messing with it while it was playing. Also we fed the kick sound into a resonating filter in order to obtain that weird bassline sound you hear in the track.

Roland CR-8000
We love the sandy, washed-out sound of this thing. It's anything but crisp or clean. You can hear it in many tracks on the album. We also used it as master clock for newer machines, since this one cannot be synced to anything.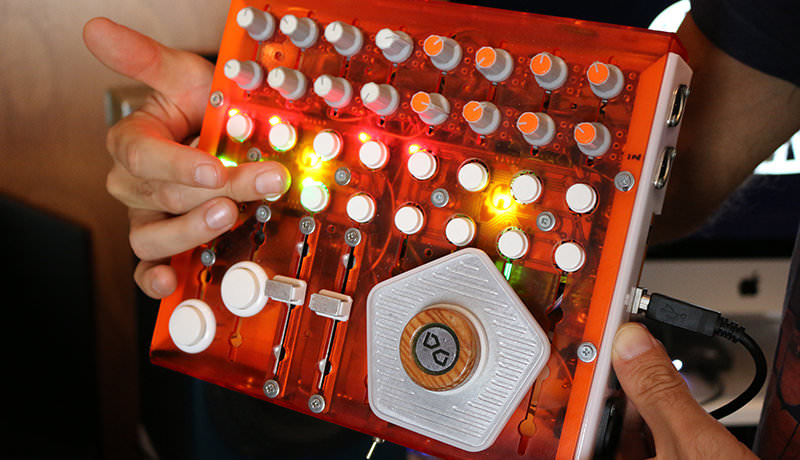 DART ONE by Hackspace Catania
DART is an open-source MIDI and DMX controller designed and hand built by our friends at Hackspace in Catania, Sicily. It works well in the studio connected to old drums machines/pads and synths (it has a dual trigger input!) as well as fully programmable MIDI controller. The quality of the knobs and the arcade-style push buttons make it really fun to remotely control smaller drum machines and synth that only feature tiny buttons and micro knobs.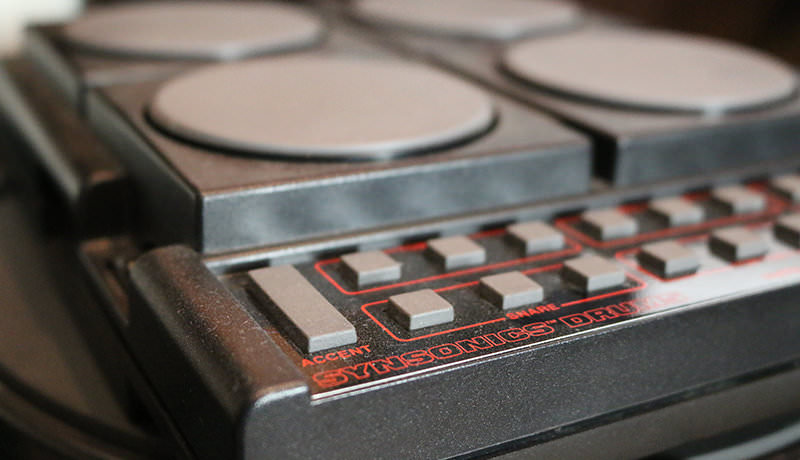 Mattel Synsonics
This is technically a child's toy, except it sounds amazing! We used it as the main drum machine for our track 'Aquila', but it's good for kick, snare and especially those tongue-in-cheek tom sounds.
Of course, it cannot be synced or remotely controlled, so we used its internal tempo – this is why 'Aquila' is at 118.7126 BPM and not 118 or 119. We recorded a few takes with all the sound combinations we were going to need: kick only, kick and snare, kick and toms, toms only, etc… finally we edited everything into Logic.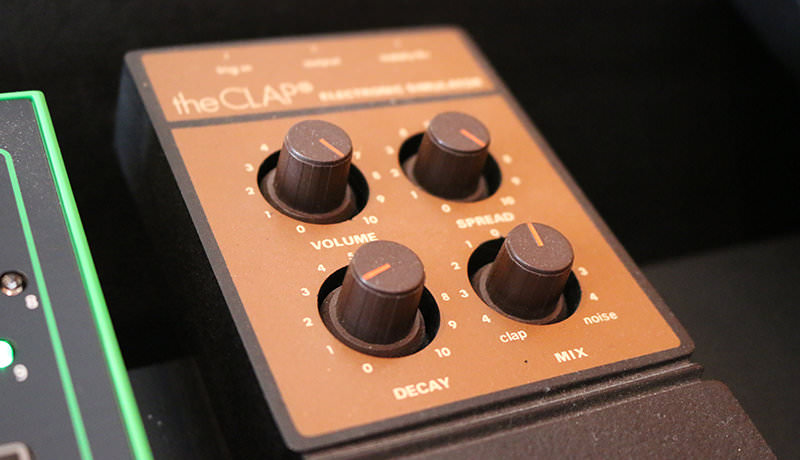 MPC THE CLAP
This is a fun little piece of gear we picked up from an eBay auction a while ago. It's basically a very simple analogue synth that can only generate handclap sounds. They are the least realistic clap sounds one could imagine, so we often coupled it with other synth claps to beef up the sound. It also needs to be played by hand: while recording, one of us would play it and the other would work the knobs.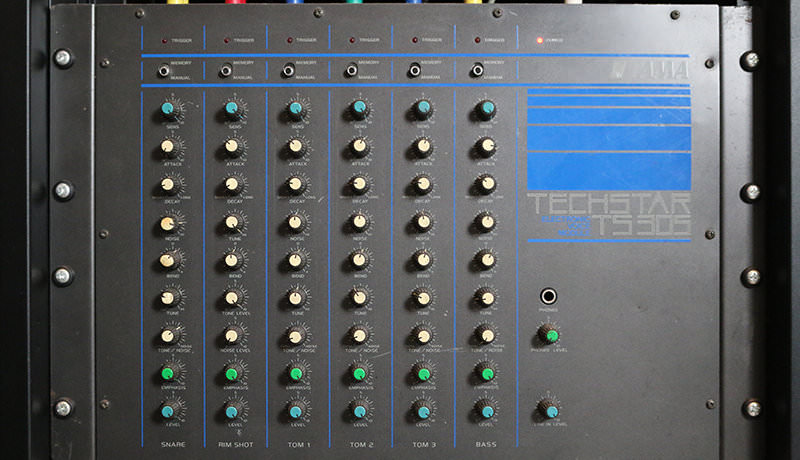 TAMA Techstar TS 305
This is one of the main drum brains we used on our album (together with Vermona and Simmons SDE) for tuning the tom tones and achieving all of the bass synth sounds. No actual keyboard synthesiser was used! It's all drum synths patiently tweaked to get the different notes. We did some of the lead/melodic sounds with this too, for instance the main melody on 'Theme from D2'.
Deardrums' self-titled debut album is out on May 20th. Find them on Facebook and SoundCloud.