Chopstick shows us around the SUOL Records studio. Prepare to get very, very jealous.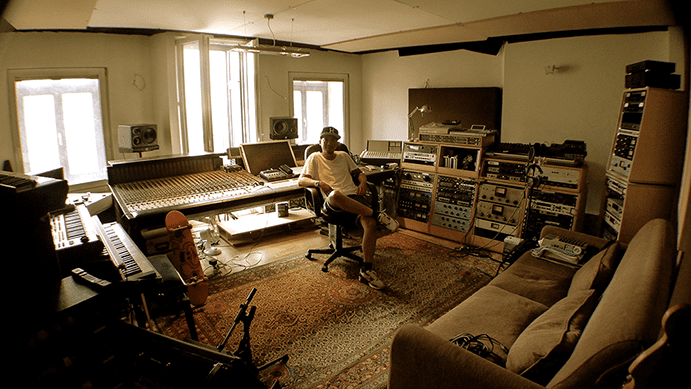 My Studio – Chopstick
My name is Thien, aka Chopstick, and I run the label SUOL out of Berlin with my studio partner and long time friend Johnjon. We have a studio complex in the heart of Kreuzberg (right behind the Watergate Club) with five studios and two offices. We built all the studios ourselves which was a challenge as we built them using room-in-room construction for the first time. I'm in the middle of setting up my interior acoustic treatments so at this point I'm running a setup which is only about 80% of what it will be by the end of the summer. I have been buying analogue gear since I was 13 and have focussed more on outboard gear in the last few years. I sold a lot of my synthesisers a while back but am starting to get more and more into it again. Here's some of my gear and what I love about it.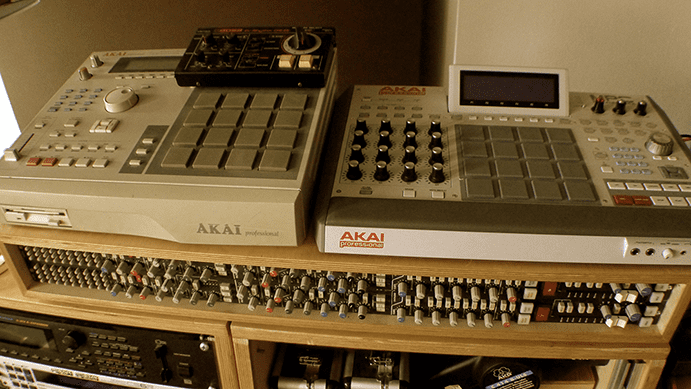 Akai MPC2000 + Renaissance
I used to make all my beats with the MPC2000, then I discovered software samplers in early 2000, but now we've gone back to using the old drum machines. The outputs just have so much punch it's amazing! The fun starts when you have the MPC run as your master sequencing host… the groove is just tight as hell and the swing algorithms are to this day one of the best ever! I got myself onto the Renaissance recently but when working with the MPCs we find ourselves using the 2000 more than the Renaissance. When you programme the exact same beat with both machines and you record it as audio, you immediately hear there's a huge difference in groove and sound – that's why our 2000 is in favour again.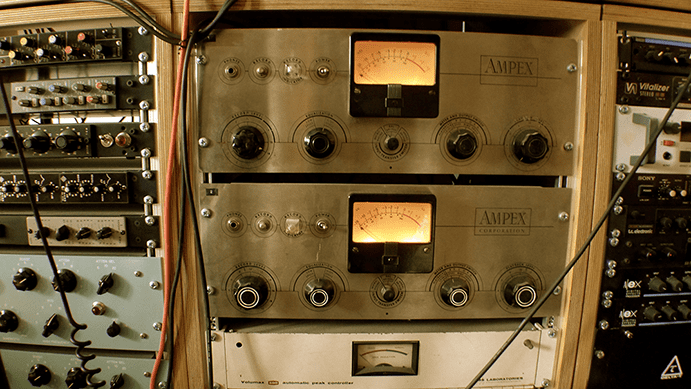 Ampex 351
These preamps were originally from a tape machine by Ampex and are pretty noisy if you don't have them modified (which I did). If you get your hands on the schematics, it's fairly simple to shorten the signal path to reduce the noise level. The Ampex 351 have a wide gain range so I mainly use them in combination with my Royer R-121 ribbon microphone. The sound is not only warm and has a lot of depth, but it gets really interesting when you saturate these preamps as the harmonic distortion adds a really beautiful colour to the sound. It's definitely not a clean preamp but after a while you just know when to use them and in what combination, and the results always have mojo and add character. These are my go-to preamps for recording cabinets but I quite often use them to record vocals as well.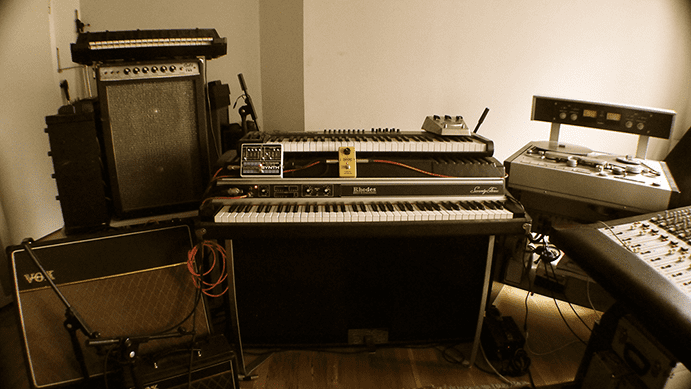 Fender Rhodes MKII + VOX AC30
I just love the old Rhodes sound! I grew up listening to a lot of soul, R&B and hip hop and 80% of the productions involved the Rhodes. So as a trained classical piano player, it wasn't far-fetched to get a Rhodes at some point. A few years back I finally found a decent Rhodes MK2 from my birth year, '79, and ever since then I try to bring the Rhodes sound to all of our productions. The sound of the Rhodes in combination with, for example, a Chorus CE-1 or Dimension D opens up any song. It's a thick layer of music in my ears when we mix the Rhodes in our tracks and I haven't found any plugin which sounds as 'real' as a real Rhodes. All of them sound too 'perfect' and clean. I have either two AKG-414 B-ULSs, two SM-57s or two Sennheiser MD421s set up with it at all times which run through my matched pair of Telefunken V676 preamps. I always get such great results.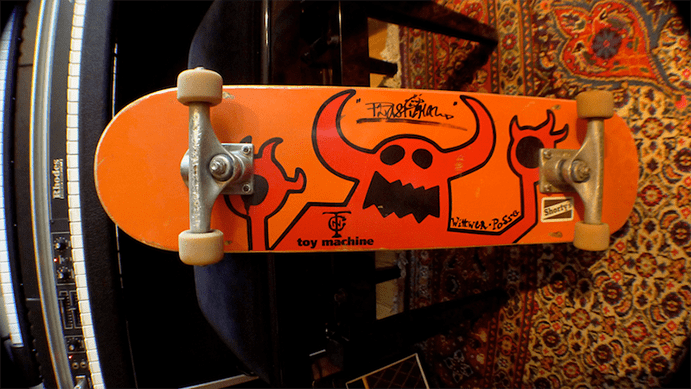 Toy Machine – Ed Templeton Skate Deck
I always keep a deck nearby… it's great to do some flips and tricks in the studio. John always says that one day I'll do a "flip to hospital". Haha!
I used to skate semi-professionally back in my early years and if I didn't have so many ankle and knee problems I would probably still be pursuing it to this day.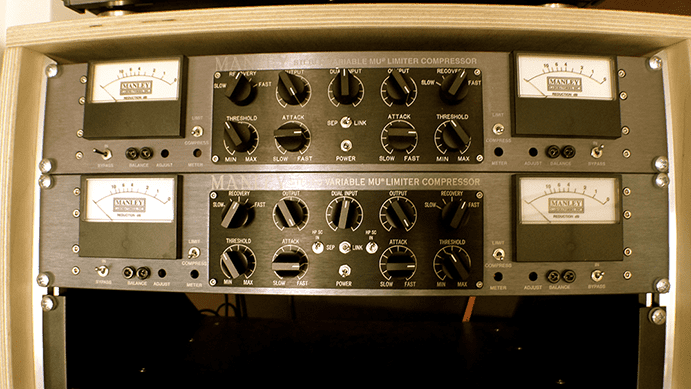 Manley Variable Mu
Either you love the Manley sound or you don't! I absolutely love it! I run my Variable Mu on my master bus. I usually set it up with a slow attack and a fairly fast release, but the setup obviously always changes as the tracks are always different. I had it modified with a high-pass sidechain at 120Hz with a 6dB/octave filter, which comes in handy when producing house music. I never have more than 0.5dB gain reduction so it's a very subtle compression. I now couldn't live without these brilliant compressors.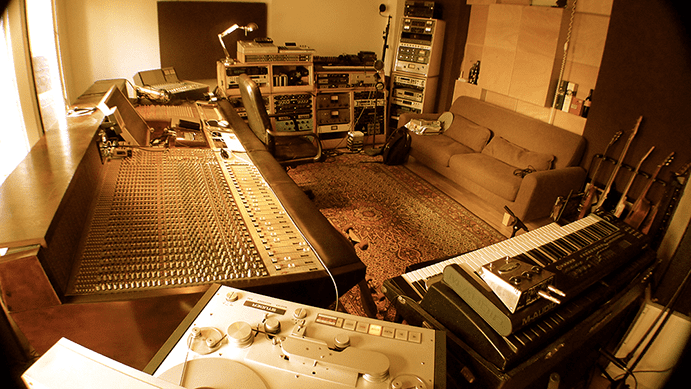 Customised 34 Channel ADT 5MT
The heart of my studio is obviously the console. It's a customised 34 channel ADT 5MT console. I had 14 channel strips taken out to implement my display in the middle of the console, which makes mixing down and arranging songs much easier. The console has a very clean sound; it's basically the German equivalent of the SSL 4000E console. I didn't hand pick this console but the deal on it was so great that I just couldn't resist. Of course an API or an 80-series Neve desk has much more colour and mojo but they are almost unaffordable now. Just like my monitor speakers (Klein & Hummel O300), it's a good thing to have a linear console/speakers, and to add colour I have plenty of outboard gear to insert. I also have an EMT console which has brilliant filters and we used a TL Audio M1 console in combination with the ADT for sounds which may need tube saturation. It's a setup which enables me to choose which sound goes through which console – quite a luxury soundwise.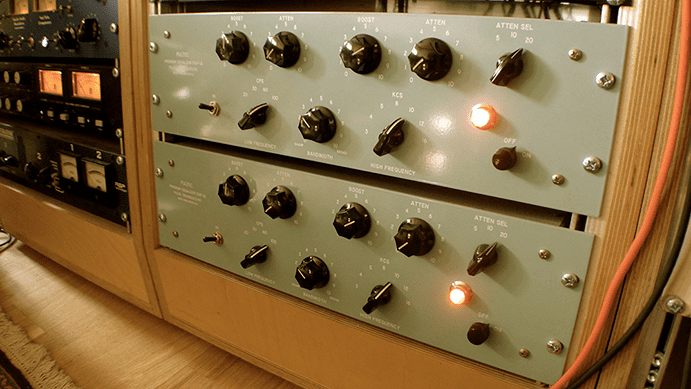 Pultec EQP-1A
These filters are amazing sounding! They are definitely not the go-to filters for surgical precision, but they're great for attenuating or boosting vocal tracks. Boosting 10db in the highs is not a problem and the sound is still crisp and doesn't hurt at all… very smooth overall sounding filters and definitely worth the money! On my last production I even used it to boost the kick in the low end and it was amazing to hear how much punch it got. It gets even more fun if you slightly distort it on the inputs!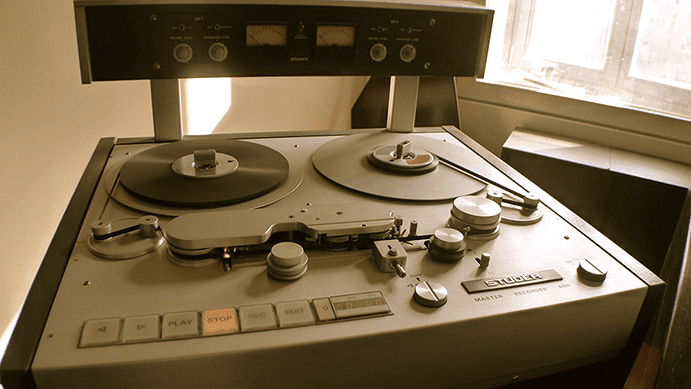 Studer A80
There's a reason why these tape machines were the workhorses of German broadcasting stations. They never break down and last a lifetime. It's a two channel tape machine and I usually record and play back the pre-masters through the Studer A80. It's a fairly simple progress as you just have to trim the inputs and outputs depending on what kind of sound you want. You can choose from two speeds: 7.5 or 15 inches per second. I usually have it on 7.5 but normally print the same pre-master in both speeds and pick the final one the next day. If you have a head in great condition, the sound is crisp in the highs and your low end gets so much punch from the tape saturation. It's also great for recording vocals obviously. You rarely need to compress the vocals when recording to tape which adds a great dynamic to your recordings. I highly recommend this tape machine but the M15 or Otaris are great too.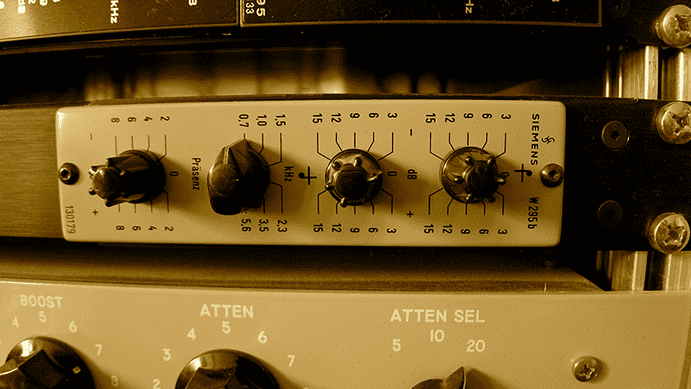 Siemens W295b
These filters are well known for their highs. I run my pair either on the hi-hat bus or on vocals. Quality wise they are up there with my Pultec PEQ-1As and SSL 4000E Filters. Boosting highs with shitty filters is the worst… it really hurts your ears and I can immediately hear bad highs in any production – it's like bad weather and in a club it can really make it unbearable to be on the dancefloor. These filters are often used in mastering studios as they have stepped gain stages. These filters, like the Pultecs, are not for surgical precision either. I use these in all of our productions and I don't know what I'd do without them.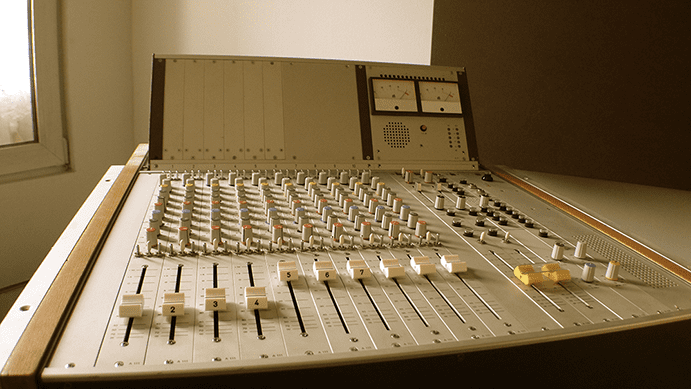 Custom EMT Series 4000
This was the first console I ever bought. It's a broadcast desk which was never available for retail, so to get your hands on these desks is rather hard. It's similiar to the Studer 169 but the EMT has much better filters. It's a ten channel console which wasn't enough for our tracks so I modified it for an extra ten channels with Haufe transformers. This desk has a lot of 'iron' in it and the sound is very punchy and clean when you are not using the filters. The highs are like my Siemens W295b filters, unbeatable and beautifully crisp! The filters are half parametric so you still get a good range of equalisation.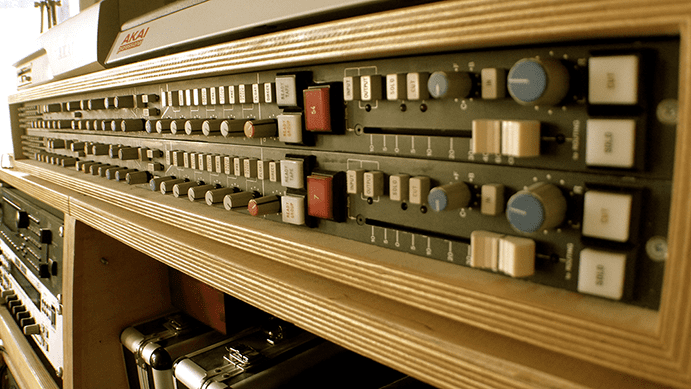 SSL 4000E Stereo Channel Strip
I imported these two SSL 4000E Channel Strips from Korea and had them racked in Germany. I usually record bass or vocals with them as the preamps are of the highest quality and it's handy to have a compressor on each channel when recording bass or vocals. These strips are the ones with the black EQ knobs which have a wider range in the low end than the ones with the brown EQ knob. The filters sound amazing too. Very clean, though. They work well for precision boosts and attenuations.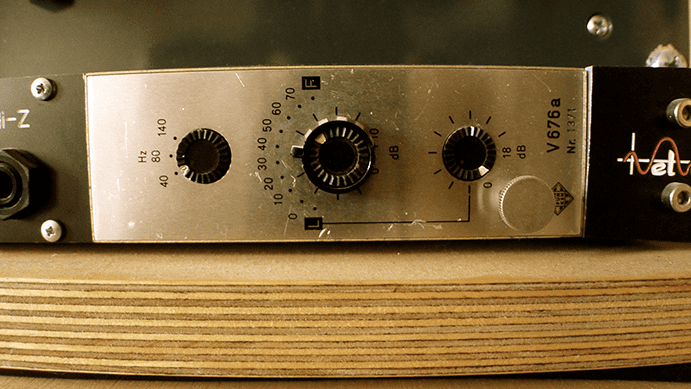 Telefunken V676
These matched Telefunken preamps are basically the tubeless versions of the legendary TAB V76s. They sound fairly clean and have a 76dB gain range which can amplify basically any low recording source. I have these preamps attached to my Rhodes and only change the microphones when recording. These preamps are also great for recording guitars. In fact, they're high quality workhorses for any type of recording! At one point I ran line signals through them with little to no amplification and the signal gained a lot of mojo and had more character.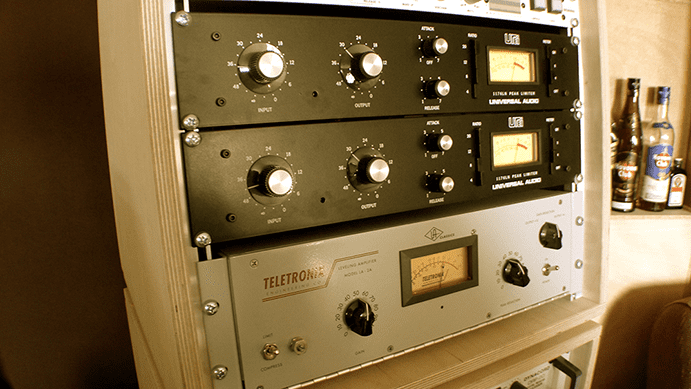 Teletronix LA-2A + Urei 1176 Revision G
I think all there is to say about the LA-2A compressor/limiter is that it's worth every cent you spent on it. It just has two knobs and is very easy to handle. The newer models have the option of switching from limiter to compressor. You get a natural sounding vocal within a few minutes. I use it mainly for tracking vocals and don't compress too much when tracking. I'm having the tubes changed to a different type but haven't decided which one yet. But the factory tubes are amazing already and the photo cell in the compressor works so differently to other compressors. I favour this style of compression on vocals over any opto compressor.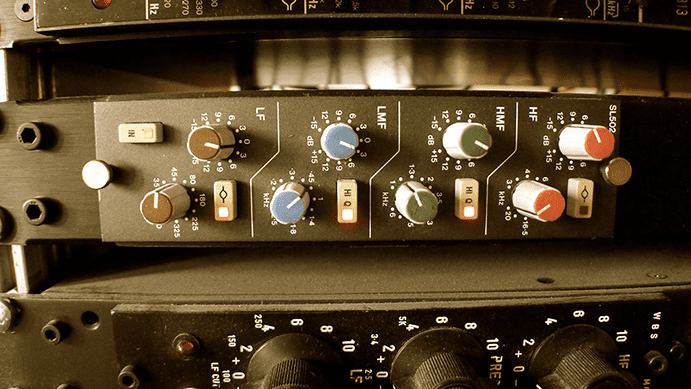 SSL 502 EQ
These SSL filters sound very clean and do not add any colour to the source in my ears. It's a 4-band filter with an option of high Q. It's very simple and I use it mostly on drums, especially on kicks. I add a bit of low end and mainly high mids with high Q to give the kick a nice attack. I'd rather use this filter over any transient designer.

AKG C414 + Brass CK12 Capsule
There are a handful of microphones which at some point in my life I want to own. The AKG C414 with the brass CK12 capsule was one of them. I was actually looking for a C412 but they are very rare and most of them are in bad shape. A bit of a boost in the low mids and highs give you the typical 'smile' sound. I chose the FET version over the C12 tube version because I own a few good sounding tube preamps and I always have better results when combining condensor or FET microphones with tube preamps. I mainly record vocals with the C414 but I do track acoustic guitars or cabinets with it too.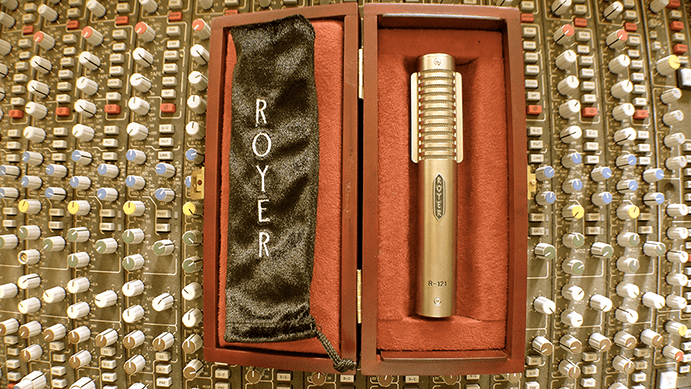 Royer R-121
A friend of mine who works for Royer gave me a few ribbon microphones for a session to test and I immediately got hooked on the ribbon sound. What I like about them is that the back side of the microphone has a bit of a boost in the highs so it's not only great for recording amps and cabinets but also for vocals. 'Roots' was our first song where we recorded vocals with the R-121 and I coupled it with my Pultec PEQ-1A . I boosted the vocal about 8dB at around 14K and 5dB at 100Hz and the vocal sounded amazing! I feel the R-121 can't really be used for vocals by itself… so if you're in need of a quick guide track, this isn't what you would pick. With ribbon microphones for vocals you need a harsh boost in the highs with a state-of-the-art filter to quickly get the sound you're aiming for.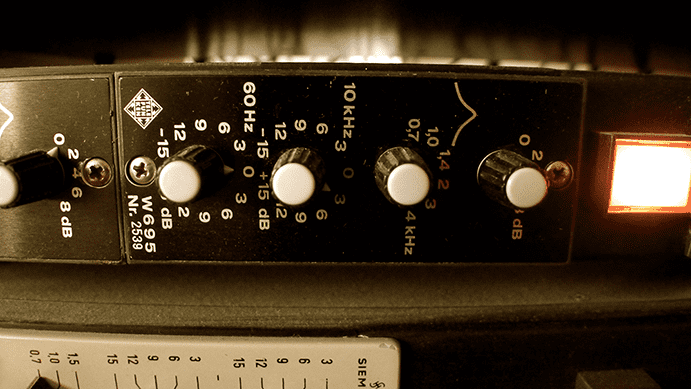 Telefunken W695
A very simple but effective filter at a fairly low cost. As I feel like an ambassador for German vintage broadcasting equipment, I recommend these for almost any kind of material. I used it on my Rhodes but I feel like I get the best results on percussive sounds – drums, but also guitars. You quickly notice if it does the job or not as the range of options with these filters are limited. Another good thing is that most of the German-engineered equipment lasts a lifetime so I never really worry about them breaking down on me.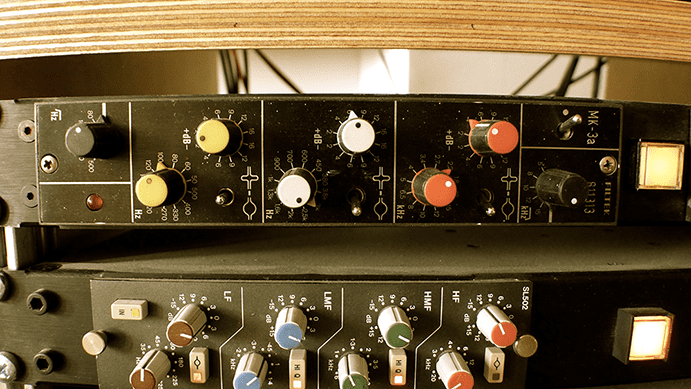 Filtek MK3a
I love these filters. Why? Because whatever you boost or attenuate will sound great! But only if you love the 'iron' sound because these units are heavy and have input as well as output transformers by Haufe. I really like the iron sound – it gives your material mojo, punch and warmth. I use them on various stereo buses, including the drum bus or even on the master bus. The Filtek MK3 is simple and has stepped knobs and the option of a high or low Q. The sound is fairly clean but when you start going into the inputs a bit hotter, they get an amazing sound and colour.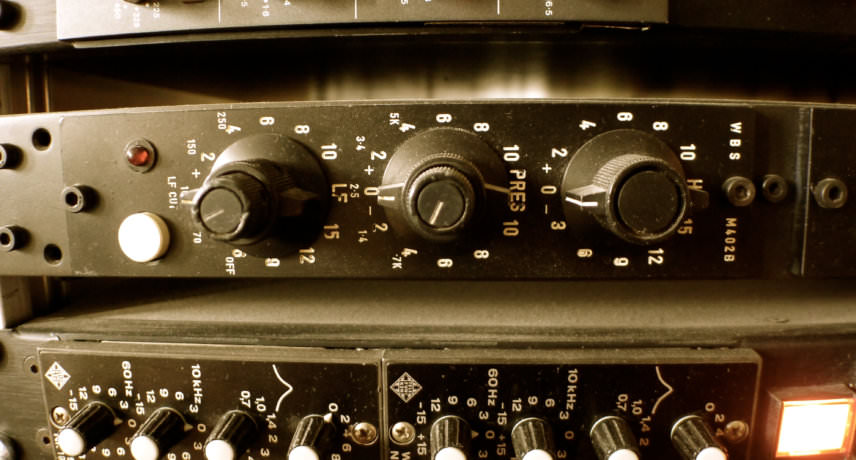 Ward Beck 402B
Ward Becks are called the 'poor man's Neve' for a reason. It's a Canadian company and I got these rare filters from a good friend in Toronto. They sound amazingly good and add a bit of colour to your material and are very, very simple to work with.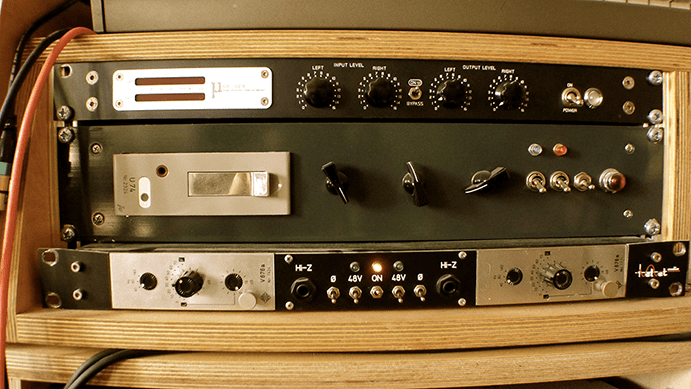 GE-103 + Custom TAB V72
The GE-103 is a harmonic saturator and I mostly use it on hi-hats. It adds that crispy sound on top that I sometimes miss. The setup is like my Studer A80: you have the inputs and the output controls and you quickly get to where you want to be with these. I use the harmonic saturation just a tiny tiny bit on my hi-hat bus. You almost can't hear it but once you switch to bypass, you feel that something is missing… the crispy sound!
The TAB U74 I have is modified into the legendary V72. The schematics of the U74 are very similar to the V72 and my sound engineer did a great job with this preamp. I have a ramped power stage and also phantom power switch as well as their built-in compression knob, which I never use because the compression sounds shit. But this, along with my Ampex 351 preamps, are my go-to tube preamps for recording. The sound is warm obviously and has a lot of depth but it does add colour to the material. Though I've never had bad results due to the added colour. I love this V72 with my U87 as much as I love my Ampex 351 with my C414 because anything you record is already at such a high level of quality that you barely need to do anything, except maybe a bit of compression.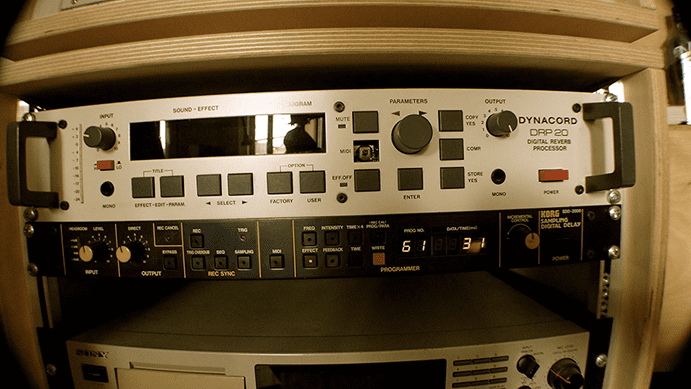 Dynacord DRP20 + Korg SDD-2000
I own two DRP-20s just because I love the reverbs that much that I had to have two. They are rare in studios these days and I only know a few producers who still use them. These reverbs sound natural and their algorithms are so great that I don't understand why not many people have them. I use them on vocals, on drums, actually on just about anything!
The Korg SDD-2000 delay is sometimes a bitch to program but considering that most of the productions in our genre these days are in the box, it's refreshing to hear other styles of delay. At the beginning I used to calculate the time of the delay depending on the speed of our tracks but nowadays I play by ear and when it feels good, I leave it at wherever it is… and most of the time it's too slow so I get this really laid back feeling.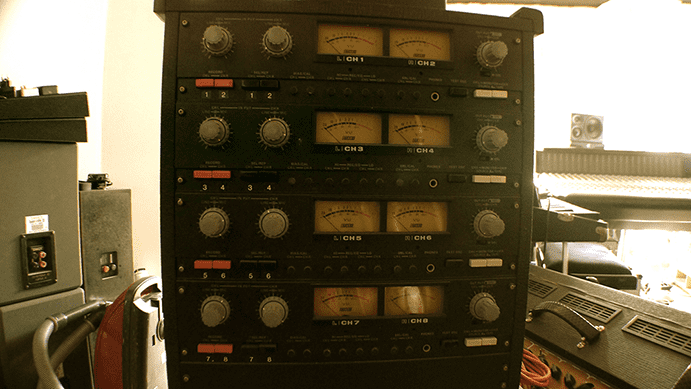 Otari MX5050 Preamps
These are great sounding preamps and are very simple to use. These preamps don't really colour the sound but are indeed just great preamps! For example, I use them when I'm setting up drums and want the drum sound to be out of one sound-flow.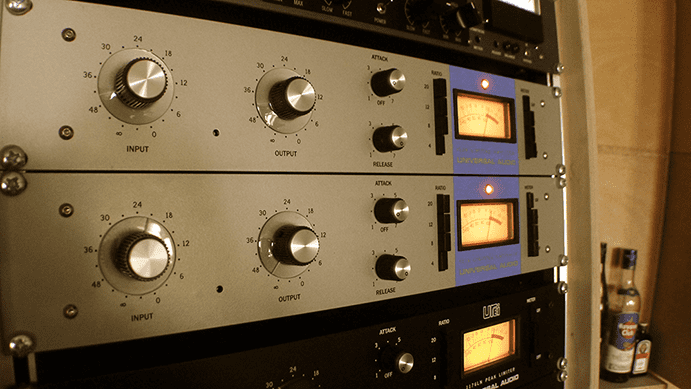 Urei 1176 Revision A
These two 1176 Revision As are the very first of their 12 revisions. These have the UTC o-12 input transformers so the sound is different to my two Revision Gs, which have a differential amplifier stage. Both revisions sound great, though Rev A is slightly more noisy. I use them for tracking vocals, drums and bass and have always had satisfying results. If you can get your hands on a used Rev A, go for it!
Chopstick & Johnjon's Roots EP featuring Signaljacker and the SUOL Summer Daze 2013 compilation are out now on SUOL.