Take a look round the New York trio's studio. Recommended listening while reading this feature is the group's excellent RA mix.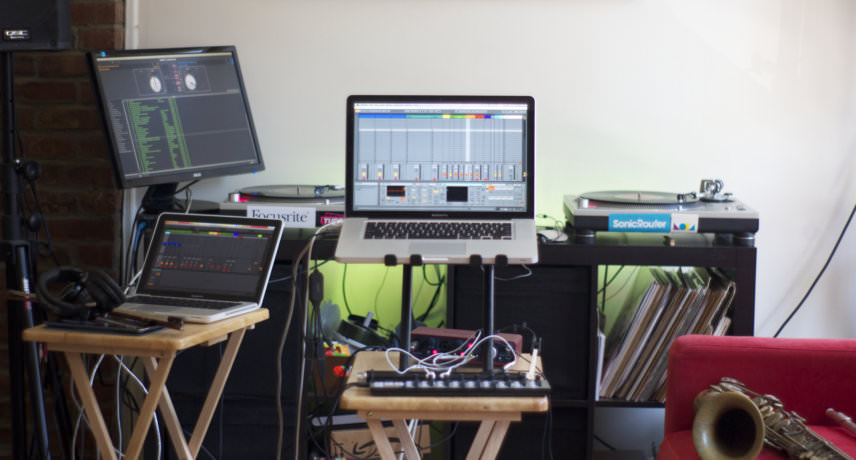 My Studio – Archie Pelago
Greg Heffernan: I live in Brooklyn and share a 575 square-foot apartment with my girlfriend. Within this space, I need to create an environment that works for both of us, and allows me to do my work with Archie, both live and produced.
These photos highlight two rooms, showing how we, as Archie, divide our workflow. The first room is the 'rehearsal room' (aka my living room), where we set up to rehearse our live show. The second room is the 'studio room' (aka the second bedroom) where our produced music is built and mixed. The overriding theme of my studio is that, whenever possible, I use tools that are flexible and efficient and can fit into a myriad of (usually small) spaces effectively.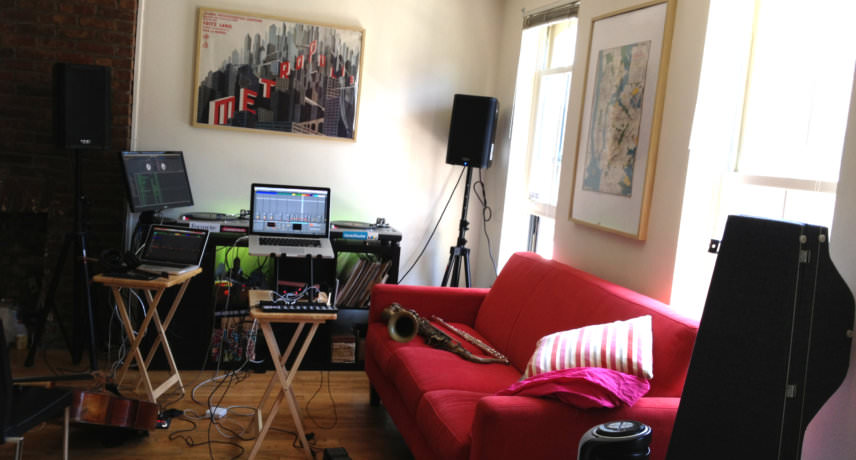 Live Rehearsal Room
Greg: I like having an open, multi-purpose room for living, eating, relaxing and, on certain days, rehearsing.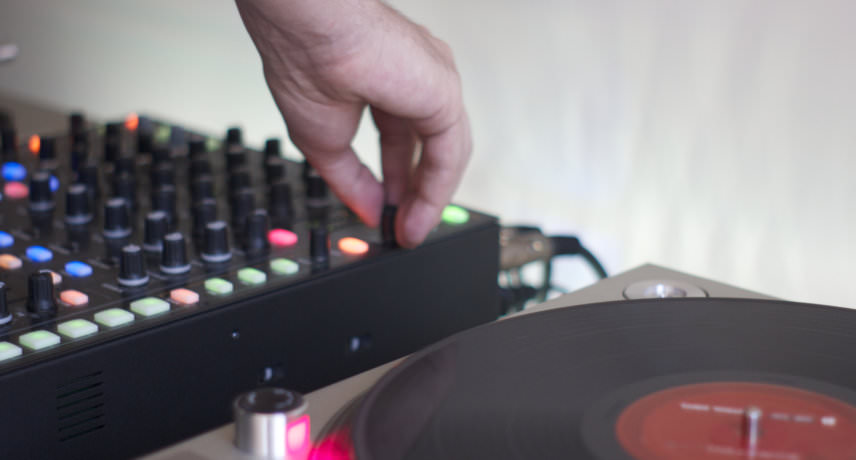 Rane Sixty-Eight
Greg: A new purchase. I appreciate how this mixer handles four discrete tracks and can record four separate channels simultaneously, all while acting as a Serato controller. This piece of gear was crucial for recording our RA mix.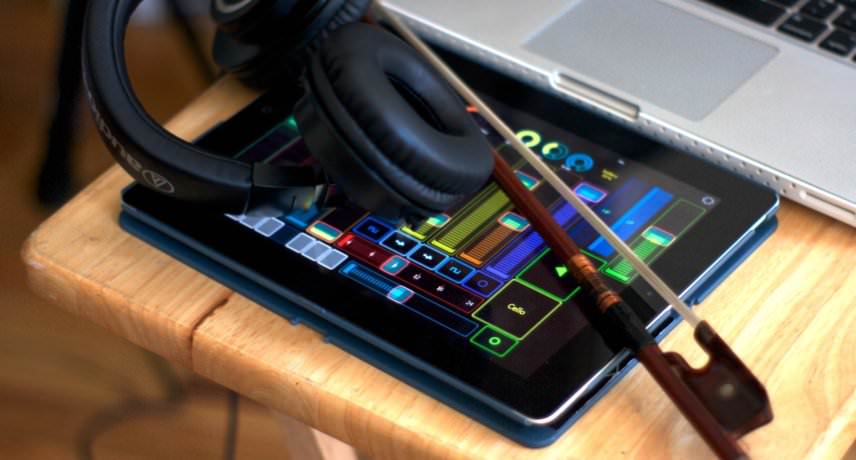 Laptops & Controllers
Greg: Zach and I both perform with MacBook Pros, Focusrite audio interfaces, and Keith McMillen 12 Step foot pedals.  The only difference in our setups is that I use an iPad running Lemur to control Ableton, while Zach uses a Korg nanoKontrol. Each of our live setups can be broken down and fit into a backpack. The cello bow pictured is new from China and made with Brazilian Pernambuco wood, a material currently illegal to harvest in that country.
The Target TV dinner tables allow us to set up our Ableton rigs in unconventional spaces (like my living room). These can fold and be stored away so that this room can serve a totally different purpose when we're not rehearsing.

Keith McMillen 12 step Foot Pedal
Greg: The Keith McMillen foot pedals 'drive' our Ableton rigs and control how we move through Ableton sets 'armlessly' on stage and when we're improvising new music together. These pedals are smaller and lighter than anything we've ever used – a game changer when getting around the city and beyond for gigs. The attached M-Audio MIDI expression pedal gives us added dynamic control to specific effects in Ableton.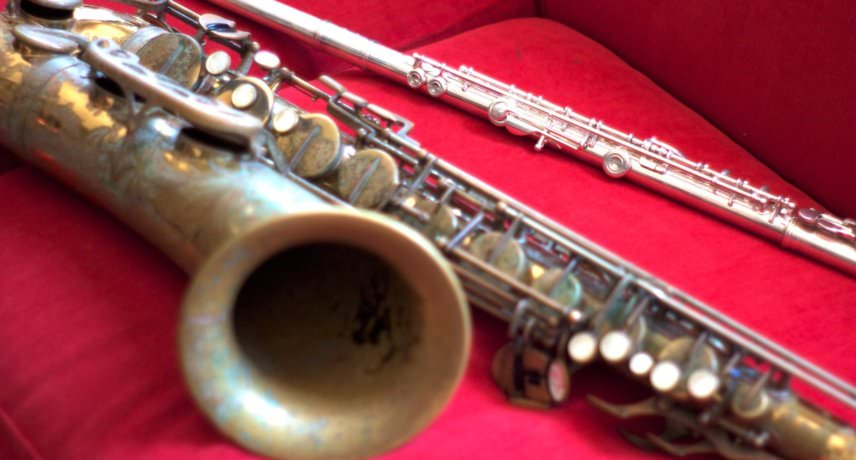 Tenor Saxophone & Flute
Zach Koeber: The tenor saxophone is a 1969 Selmer Mark VI. I got it at Roberto's Woodwind in midtown Manhattan in 2003. I tried dozens of horns for about five hours before settling on that one.
Greg: The 1996 Emerson flute belongs to my girlfriend (saved from her years in high school band), and Dan resurrected it for our track 'Ladymarkers', as well as some as-yet-to-be-released material.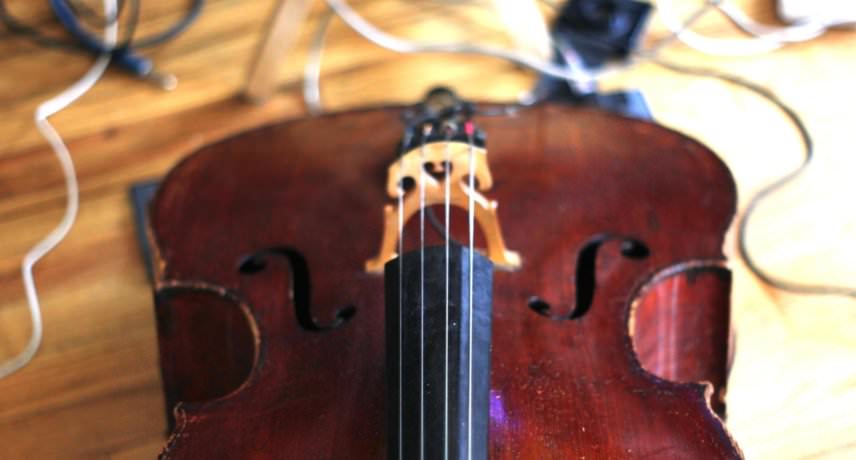 Cello (German, Circa 1900) With David Gage Pickup
Greg: This is a cello I've had since I was a college student. It was sold to me by an instrument dealer of certain infamy, although I didn't know it at the time. It still gets a good sound, and its 'old' look has a certain visual appeal for audience members who aren't used to seeing cellos in an electronic music context. Any cello sounds on Archie tracks probably came from this instrument, including the opening plucked lines of our track 'Brown Oxford'.
Rather than mic my cello for live performances, I place a David Gage piezo transducer under one of the feet of the  bridge, allowing me to get a direct line signal from the cello with minimum feedback or signal bleed. In rooms that have substantial sound systems and low end, I usually cut the lower frequencies of the cello via an Ableton EQ.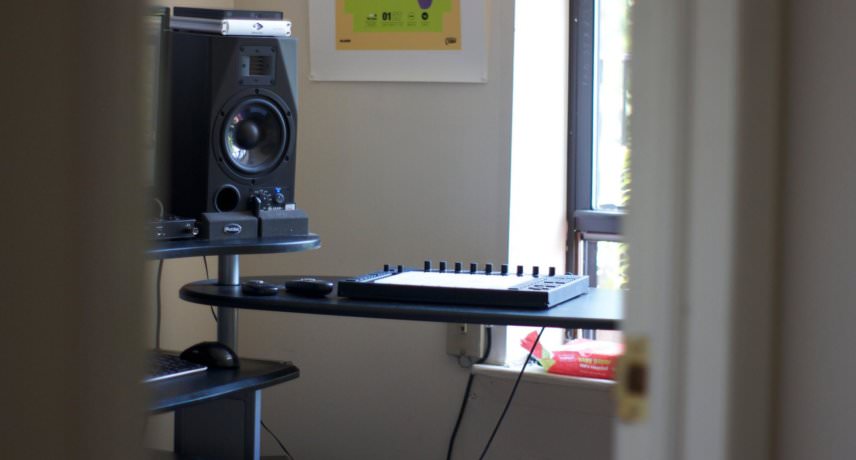 Studio Room
Greg: This small room is in the back of my apartment, and mainly houses all of the gear I use to mix our tracks on. The key to my setup is efficiency of space and making sure I have key gear that I need – nothing more, nothing less.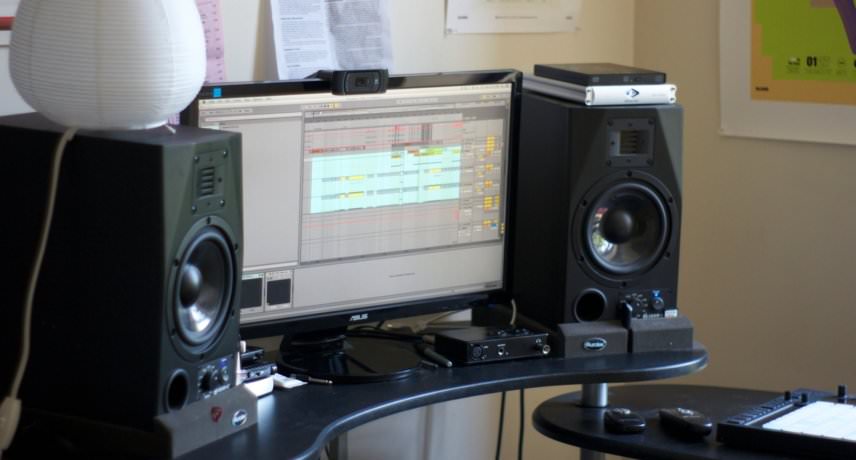 Monitors, Computer, Software
Greg: One afternoon at Brooklyn Guitar Center, I checked out a floor demo in which 'Don't Stop Til You Get Enough' was being played through several pairs of monitors. You could route the track through each pair individually and they all sounded great until I got to the Adam A7s. Through the Adams, the track sounded flat and generally unflattering. This intrigued me to do more research on the brand and ultimately buy a pair for myself.
The computer is a Hackintosh build. I like to build my own computers and upgrade components myself.  It saves money and gives me control. Very barebones, and it's been working fine so far! We use Ableton Live Suite 9, Max/MSP, Reaper, MuseScore, Fission and UAD plugins on the Satellite Quad. I wanted to use plugins that I could grow with as a mixing engineer and in use I've found them to be quite expressive, musically. Plus I like that I can consolidate my plugin library onto one platform, don't have to deal with compatibility issues on different systems or iLok.
I really appreciate the MOTU Microbook II for its small form factor, numerous routing options and reasonable price.
The Ableton Push has untapped creative potential, both in the studio and live.  We are only starting to integrate it into our setup and Dan (who takes on the 'DJ' role in our live setup) plans to make this a part of his on-stage arsenal.
The Asian lamp from Ikea provides essential atmosphere during late-night sessions.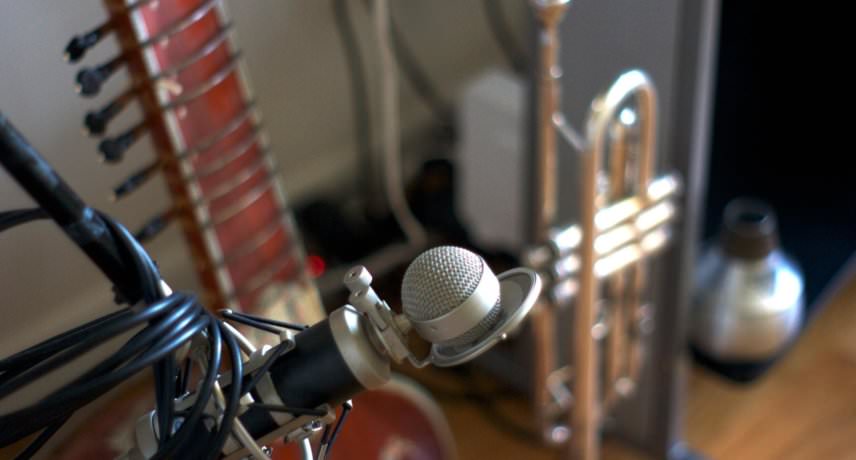 Blue Baby Bottle Microphone
Greg: We use this for all of our recordings. I bought it years ago because I was told the sound has its own distinct character. I've liked the character of the sound enough that I haven't actively sought to expand my mic arsenal since I bought this one. It's recorded every live instrumental sound in everything we've put out to date.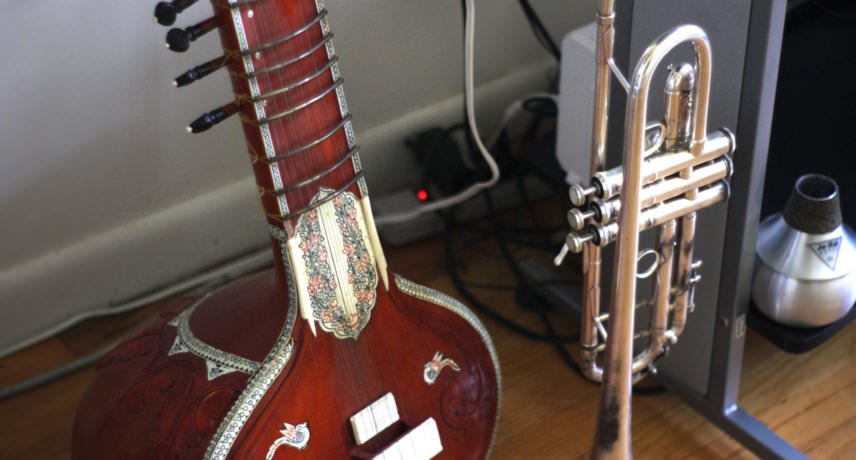 Sitar & Trumpet
Dan Hirshorn: The trumpet is a Bach Stradivarius Mt. Vernon Model from 2001. I started playing music in elementary school when school orchestra allowed enrollment. I chose the cello and loathed it – I lasted maybe 6 months and then I ditched it for concert band the following year in a heartbeat. I started trumpet on a standard Conn student horn and quickly started to realise how much I enjoyed playing and how easily it came to me. After a while, the student horn got a little dilapidated and I made a regional band so my parents gifted me a gorgeous silver Bach Stradivarius. I've had the horn ever since, rotating between a 7C Bach mouthpiece and a Custom 3C mouthpiece from Stork. I also use an assortment of mutes with the trumpet – a particular favorite of mine is the Jo-Ral Bubble harmon mute. The sound of this mute can be heard on one of our early tracks, 'Hej Otto'.
Greg: I bought this sitar on eBay back in 2000 when I was still in high school, as a novelty. A few days after I bought it, I brought a girl home to show it to her and play her some tones, and she was impressed. While we were making out, the sitar rolled off the couch and the gourd shattered. Glue holds it together now, but it still gets a pretty good sound, which you can hear all over our remix of Wallflower's 'Say You Won't Ever Leave Me'.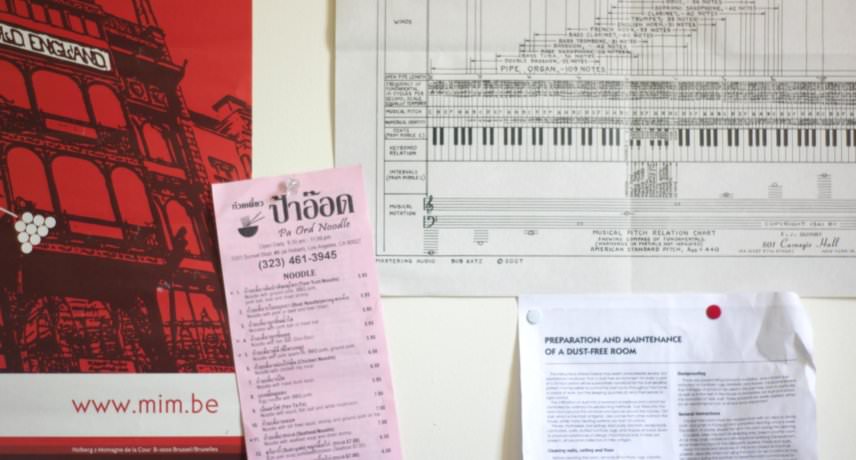 Posters
Greg: I wish I had it in me to frame these posters, and right now the room still has a college dorm vibe. That said, I think it's good to have inspiration around you when you are being creative, and these posters definitely provide it.
I have quite a few Turrbotax posters, as they supported us early on and are an all-around great NYC party.
I have a musical pitch relation chart, just to add some science to the wall.
Years ago I had the opportunity to visit the Musical Instrument Museum in Brussels, with its ancient spinets and other obscure musical curiosities from centuries past.
Also, a menu from my favorite Thai restaurant in Los Angeles, Pa Ord Noodle, just to remind me of the West Coast, and that truly spicy street food exists.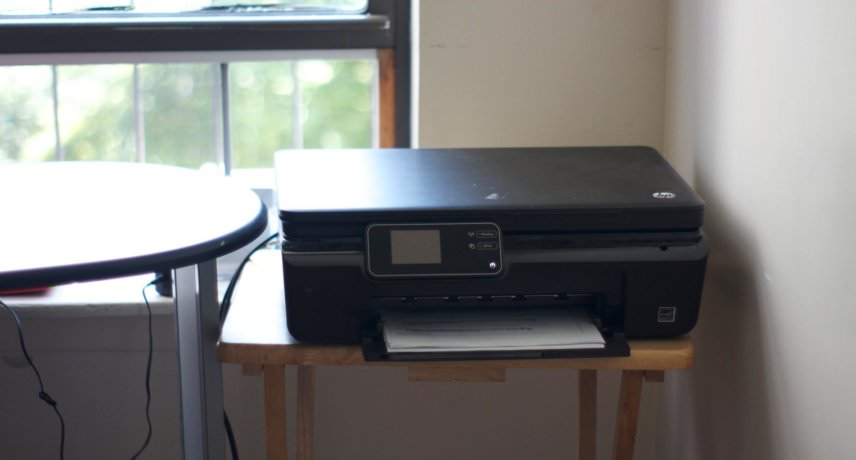 HP Photosmart 5510 e-All-in-One Printer
Unglamorous but essential. From scanning pay stubs, contracts and W9s, printing out sheet music, itineraries and e-tickets, this is the workhorse that gets it done. Notice the TV dinner table holding it up.
Archie Pelago's 'Breezy Whey'/'Backflight' is released on July 22nd on their own Archie Pelago Music. Find the group on Facebook, Twitter and SoundCloud.