A tasty synth selection, a giant record collection and a gangster penguin. Brooklyn native and Berghain resident Anthony Parasole shows us around his creative space.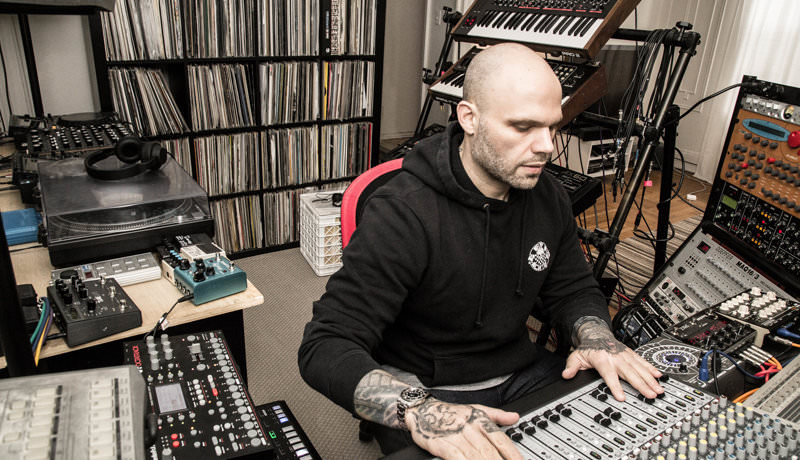 Anthony Parasole – My Studio
This is my home studio which I've been building over many years in Brooklyn, where I've been living all my life. No place like home!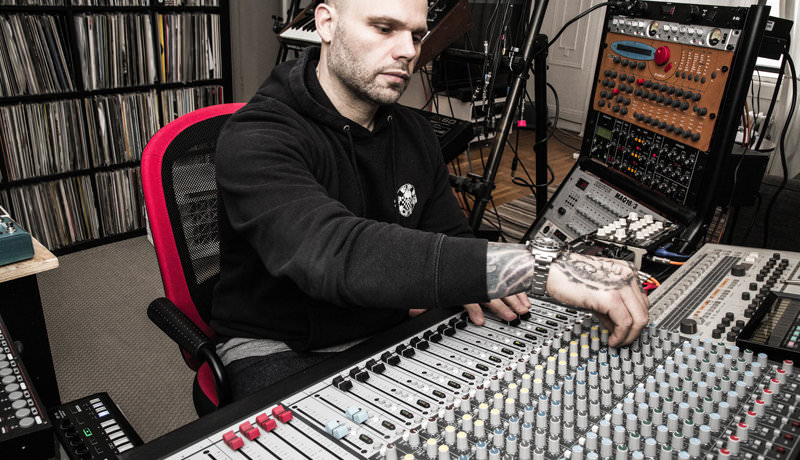 Allen & Heath GL2400
My Allen & Heath GL2400 16-channel mixing board. I love the ease of use – it's pretty straightforward in mixing and effects routing, with six aux sends which let me create nice live effect takes in the mix. Also the board is pretty responsive with a four-band, two-sweep EQ with a 100 Hz high-pass filter on each channel, so I EQ as close as possible throughout the recording process to my DAW. This mixing board can be heard basically on almost all my music, except two early releases for which I used an old Mackie 1640VLZ.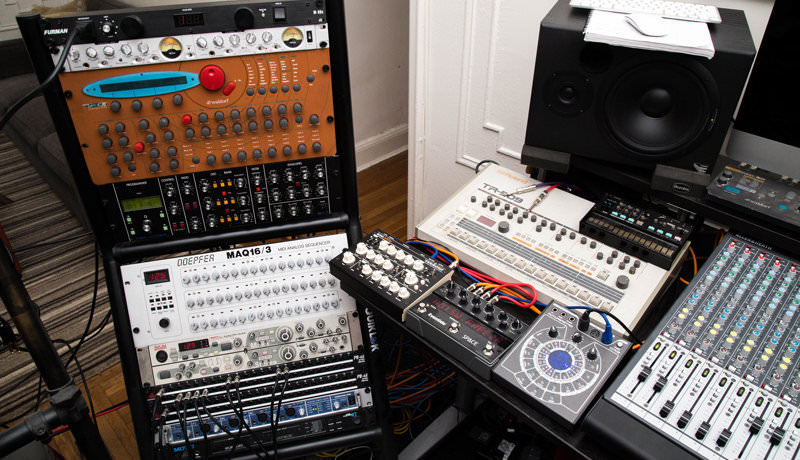 Event TR8s
My monitoring is my old pair of Event TR8s. These are my very first 'pro audio' purchase that I could afford at the time – so many years ago – and I just really have grown to love them. I really enjoy working with them because I just know them so well and via trial and error I know how sounds will translate to other rooms on much larger sound sytems. They don't add much bass and were pretty flat for the price point when I purchased these, so mixing, recording and listening are pretty true to source.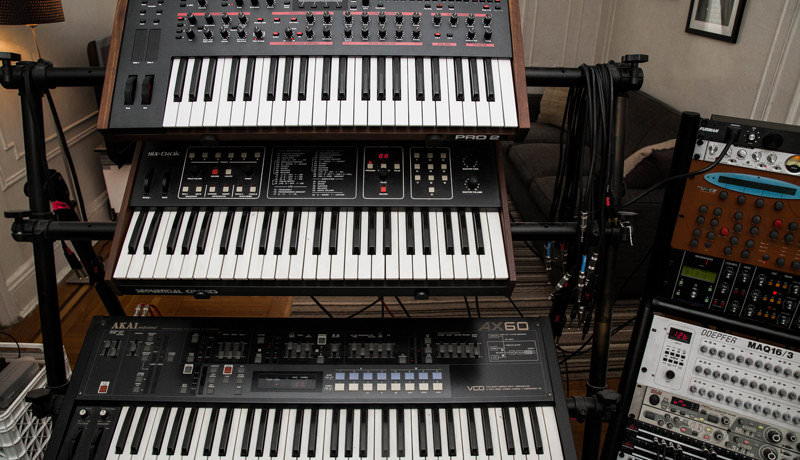 Dave Smith Pro 2
I purchased this synth right before I started writing my album Infrared Vision and I used it as one of my primary sound sources on both my album and my latest record, Velocity. I love everything about this synth. I've owned many Dave Smith instruments so this is just a natural transition in interface and sound/synth routing, as it's similar to the Mono Evolver which I owned prior. Besides using this synth for leads, bass and weirdo sounds, I truly love the sequencer. It's so deep and advanced for a onboard option – it lets me do some very creative patterns.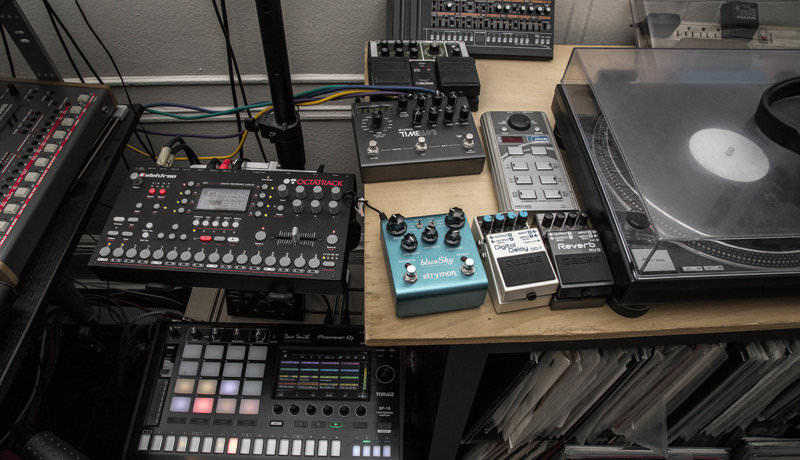 Elektron Octatrack & Strymon Timeline
The Elektron Octatrack I use on basically all my music because it's the heartbeat of my studio. I have it set to send MIDI sequences to all my synthesisers. I also like writing in the chromatic mode. By turning the step buttons into a keyboard and then playing the sequence, it gives a real life feel of playing, not just stepping. The Octatrack records the patterns, then you send that sequence to the synth and record the take.
The Strymon Timeline is my main delay effect. It's an incredibly deep delay, down to the millisecond it sounds rich and wide with tons of different delay settings that can create really cool patterns and modulations.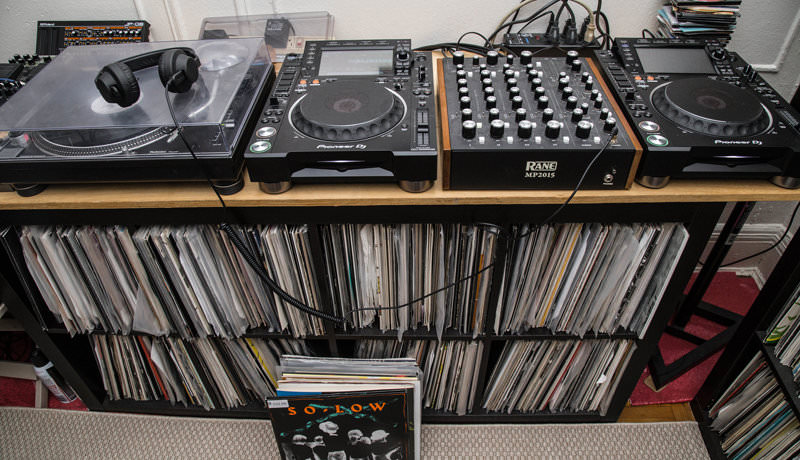 DJ Setup & Records
My studio DJ setup is my Rane 2015 (I was on the team to help give artist input on the design and layout) with two Pioneer CDJ 2000 Nexus 2 and my good ole reliable Technics 1200 for my records. I never had a pair of CDJs prior but when these came out I felt the upgrade was so huge I needed to get them for my home studio to work with and learn all the nuances so I can really understand them when on the road.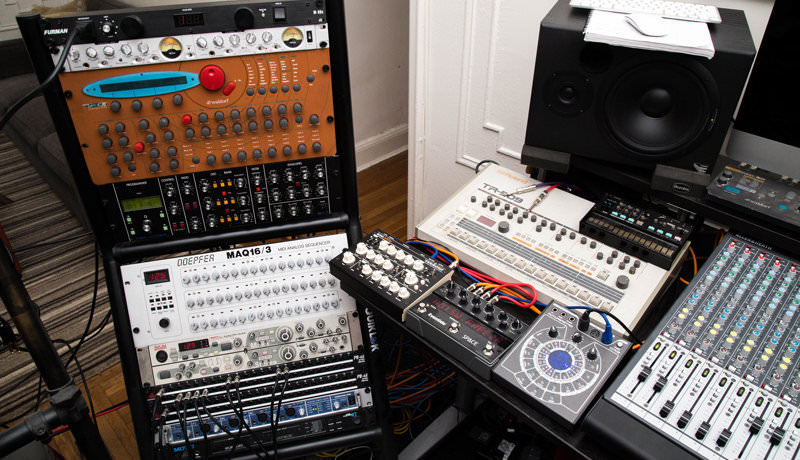 Waldorf XT & Akai MFC 42
The Waldorf XT is one of my favourite synths I own and is the source of the leads on a lot of my music. In the case of the Velocity EP, it's the bubbly bass lead in 'Hot Zone' or the crazy synth lead in 'Velocity'. I just think it's completely deep and I haven't even scratched the surface of its capabilities. It is endless in making patches. I think it excels in many areas like weird noises and rich digital sounds, which I've grown to really love in FM synthesis or wavetable source.
The Akai MFC 42 is a mono and stereo filter module I use often. I think it's a strong filter and has tons of life to it as well as some slight EQing. It can be aggressive as well by adding resonance, for example in 'Velocity' I sent the Waldorf XT lead synth to the MFC 42 and cut the high-pass to make it darker and more aggressive with the resonance.

Gangster Penguin
I love little Toy Tokyo toys and found this little gangster penguin. He's security in my studio… don't fuck with him or you'll get hurt. Also the crying face framed photo is a club I used to attend a lot when it was open, the old Shelter. This room had such a major impact and influence on my life as a DJ and producer and I love taking time out to glimpse at it for inspiration when needed.
Anthony Parasole's Velocity EP is out November 4th on Redimension. Find him on Facebook.