Echio, an artist-led music education platform founded in 2021, now offers demo feedback from your favourite artists. And for launch, you can save 20%.
Over the past ten years, the musical landscape has fragmented. Artists are now vying for attention across a huge range of platforms. Just last week alone, with the introduction of Threads, artists have to grapple with one more. It's often a dilemma for upcoming artists – where should I upload my music and engage with fans? How can I get it heard? How and who will give me feedback?
Echio does not promise to solve all those issues. But it certainly helps. One of the most exciting aspects they offer is their new direct-to-artist demo feedback. It's also a paid-for service. That might seem a hard sell, but internet culture is changing, and Echio is part of the change.
Earlier this year, SOMA decided to stop sending out free promos. You'll have to pay if you want to receive their latest tracks. It's an unusual move, but there's good reason. After all, record fan clubs have always been there. And with the internet devaluing music to a 'rental system' that does not adequately support artists, something has to give.
As internet business models mature and shake off the past decade's awkward teenage phase, Echio asks: "What value would you place on paying for direct demo feedback from artists you follow?
TLDR? Jump to the chapter of your choice:
What Is Echio?
The best way to establish what Echio is is to look at what it's trying to solve. When Echio was founded, Joakim Bouaziz and Tom Royer started to explore new ways for artists to live stream their studio sessions. This could include track breakdowns, jams, tips and tricks, and more.
The aim was to give artists new revenue streams supported directly by their fans. A window into their studio life. And most importantly, the platform is native to Echio, meaning, for example, their proprietary software is not subject to the whims of algorithms, amongst other user-friendly benefits.
The mission brief at launch was:
How to create new and fair sources of income for artists in the digital age
How to make a stronger connection between artists and fans beyond the algorithms of social media
How to promote a virtuous feedback look, including artistic skills, knowledge, and experience
How to offer value to fans and artists simultaneously
To benefit artists and fans simultaneously but in separate ways (more on that later)
To create a unique experience that's impossible to replicate in the real world. I.E., spending an hour online interacting with a well-established artist in their studio
How is Echio solving these mission statements?
By providing an innovative monetising system within an interactive live-streaming platform, designed specifically for artists
Cultivating direct relationships between artists and fans through a shared experience and real-time exchange
Empowering arts learning and teaching by eliminating technical and geographical barriers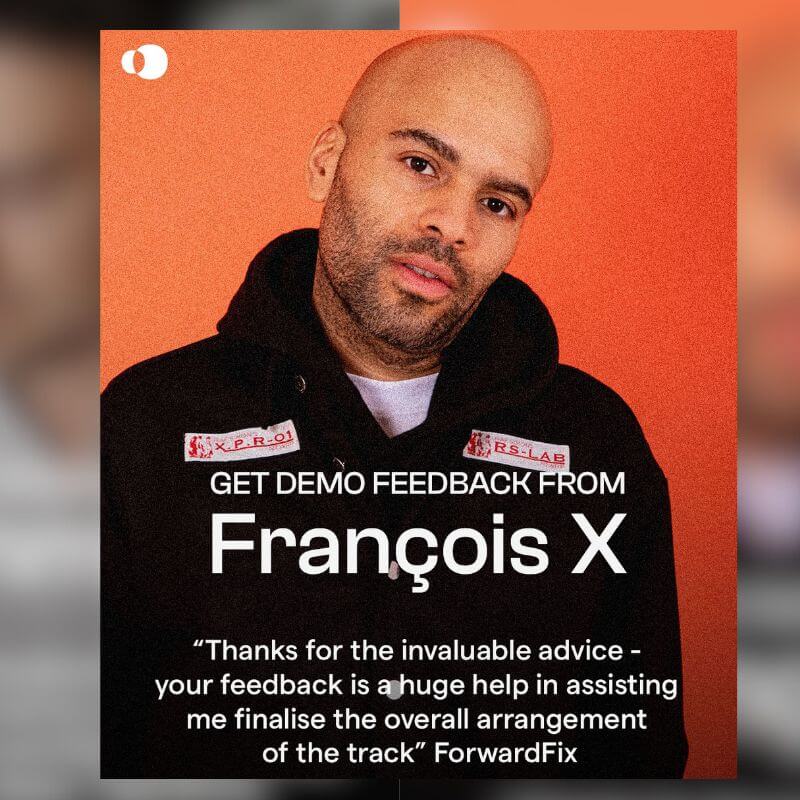 Who Created Echio?
Joakim Bouaziz and Tom Royer founded Echio.
Joakim Bouaziz is an electronic musician, founder of Tigersushi Records and manager. He has released on various prestigious labels such as Versatile, Life & Death, Permanent Vacation, Vinyl Factory. As a DJ he's performed from major festivals to Panorama Bar.
Tom Royer is a diehard record collector and DJ, who also works as a creative technologist for some of the world's top digital agencies.
Speaking to Joakim he elaborated on Echio's position in the market:
We want to make revenue fairer for artists and create a stronger, intimate link with fans.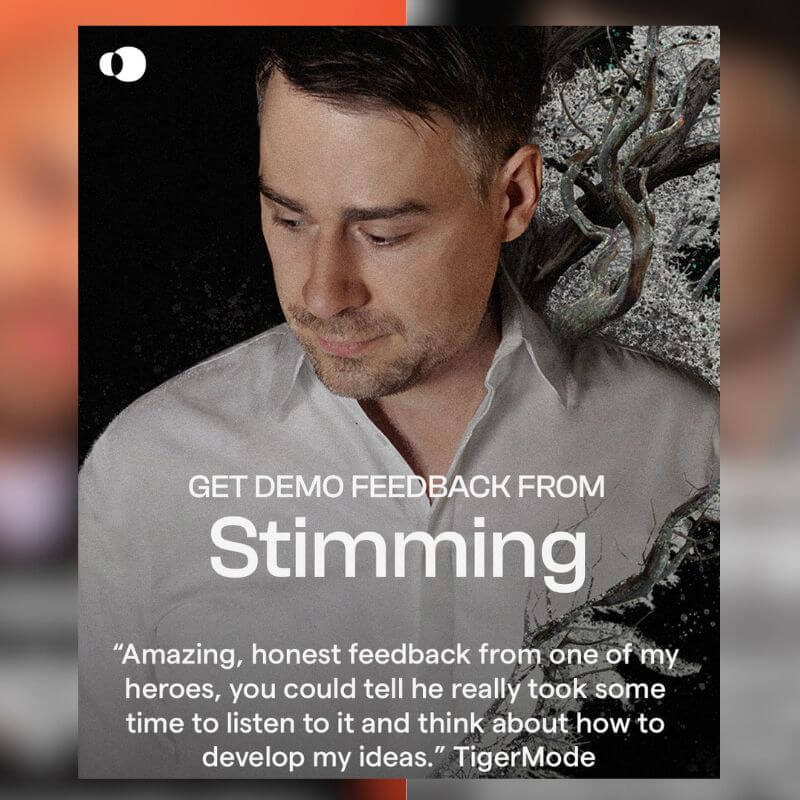 Who is Echio for?
Signing up as a fan
You can sign up as a fan, giving you direct access to engage with the artists. It's free to do so
You may, for example, want to know directly how they arrange their tracks, the gear they use or even buy their session for learning purposes in your own time. The artists are there to assist.
However, you can also use Echio to pay for Demo Feedback. You pay for what you use on Echio (Live Sessions, Videos on Demand, Demo Feedback) instead of a subscription service.
Signing up as an artist
For artists, Echio offers a unique way to connect and exchange with your fans.
Using the Echio Livestream channel allows you to become part of a larger community that brings you new fans. Musicians of all sizes from across genres and formats can build communities of superfans on Echio, and earn money doing what they love. What's not to love there?
You can register on the site to sign up to be an artist. But note that artists are vetted to ensure a highly curated offering for fans. To become an artist, you must:
Have you released music?
Do you have a track record in the industry already?
Have you got fans (even a tiny fan base) that want to hear more from you as an artist?
How Does Demo Feedback Work?
It's straightforward:
Find the artist you want to send a demo to on Echio.co
Send your demo (Soundcloud link only) with a short message to the artist explaining what advice you're looking for (mixing? arrangement? creative process?)
Receive a personal feedback video from the artist within 30 days
The artist will then factor in your requests and give you industry guidance and technical feedback in a two-minute (minimum) video.
Artists currently using the platform include:
How Much Does Demo Feedback Cost?
Echio has a token system. The minimum price is 1500 Tokens ($15), and the price rises subject to the artist.
It's worth remembering that 80% of the money goes to the artists. If you are already sending Patreon donations or comfortable with 'buy me a coffee' schemes online, Echio is broadly similar, but you receive some personal in return.
There is also an altruistic element: artists can donate 50% of their fees to a charity fund promoting musical education. In those cases, it will be highlighted before paying for the demo feedback.
Echio is running a Demo Feedback launch promotion with a 20% discount on all requests! Find out more.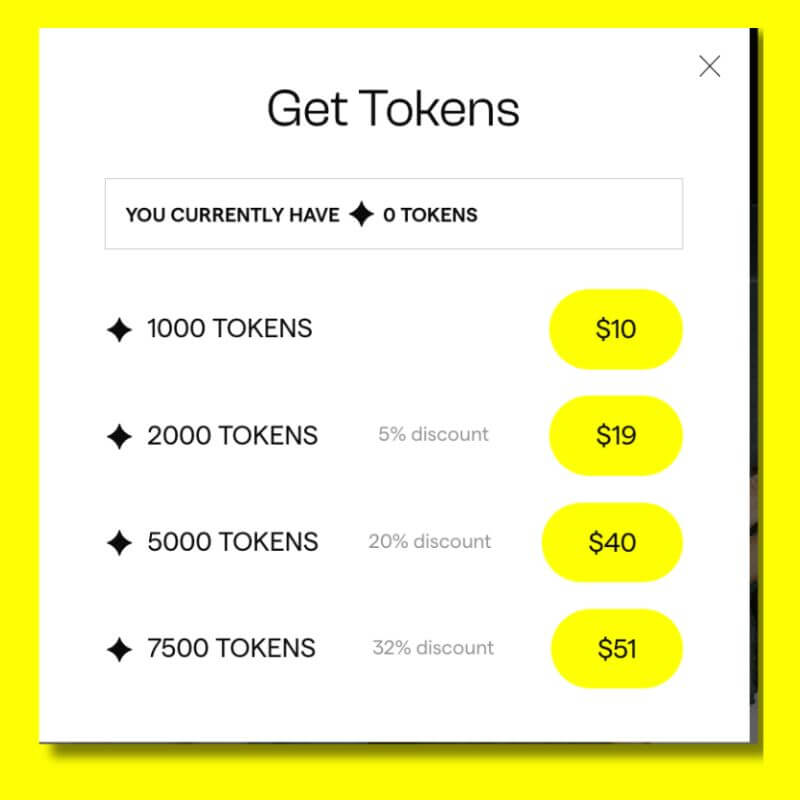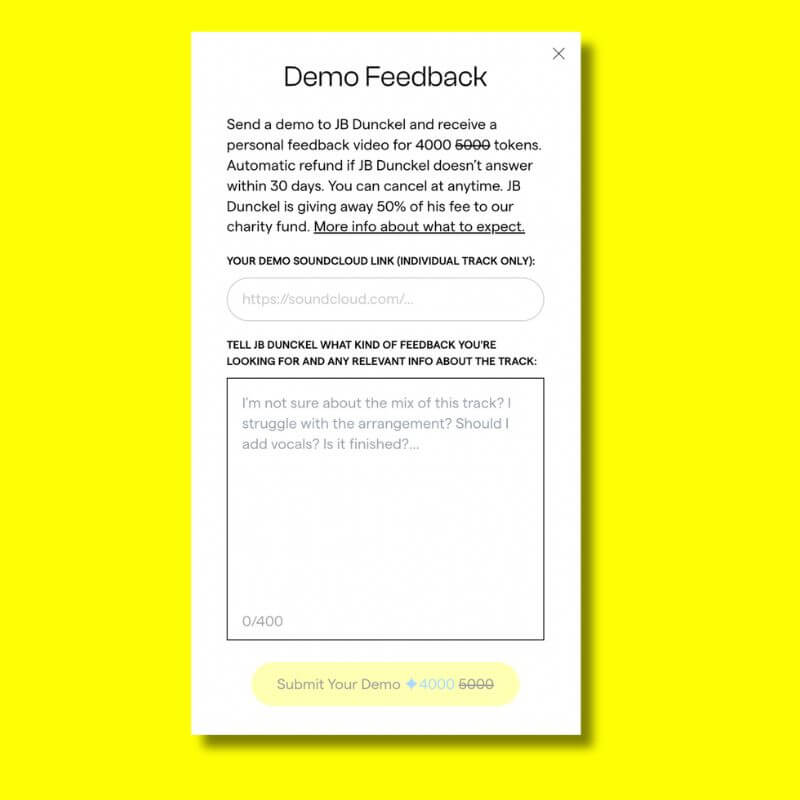 How does Live Sessions and Video on Demand on Echio work?
Echio Live Sessions system works with tickets. You purchase a ticket to be a part of the live stream. If you don't make it to the live session, there's no refund, but you can access the VOD of that session with the same ticket.
Live streams encourage interaction and donations and provide archives of the studio sessions for your personal use later.
How is Echio different From Other Live Streaming Platforms?
There are, of course, plenty of streaming options already available. During the Covid pandemic, live streaming exploded, with artists taking to mostly Twitch, Facebook, or YouTube to keep fans engaged. However, Echio has several differences:
Echio is fully independent, created by artists for artists. It's artist-led, and that matters
There are only established artists on Echio, as there is a vetting process
Echo is committed to fair pay for artists, unlike other streaming platforms
There are no adverts
The user experience is optimized for artist live streaming and fan interaction
Echio artists "own" their fanbase, meaning they have access to the mailing list of fans who interacted with them in one way or another
Follow Attack Magazine