They've both blazed a trail in the electronic music world and now they're teaming up to produce music for a 27-piece classical performance at the Barbican. Marcus Barnes sits down with Kate, Jamie and two members of the orchestra to find out more about the new show.
"Back when I did one of my early shows [with the LEO] at The Royal College of Music I asked Jamie, Ali Love and Luca C if I could do an arrangement of 'Benediction'," Kate Simko explains to Attack. "In those days I'd be walking around with my headphones on when I traveled around – the song came on the radio, and I was like, 'Wow, this song is amazing and I'd love to rewrite it for an orchestra'."
As she tells it, whoever picked up the email Kate had excitedly sent to the Hot Natured guys asking if she could repurpose the song, suggested she rework another of their songs and that, seemingly, was the end of that. But sometimes you don't always get what you want when you want it and, six years since that first request, Kate Simko will not only be performing that seminal tune by Hot Natured but she'll be doing it with one of the team who created it, her friend and collaborator, Jamie Jones. "It's been a long time coming, and at that time I didn't know Jamie that well," she says.
Next week Kate and Jamie present Opus 1, their 27-piece orchestra project with the duo on electronics and Robert Ames conducting. It will take place at the legendary Barbican, a venue now synonymous with classical/electronic hybrid performances.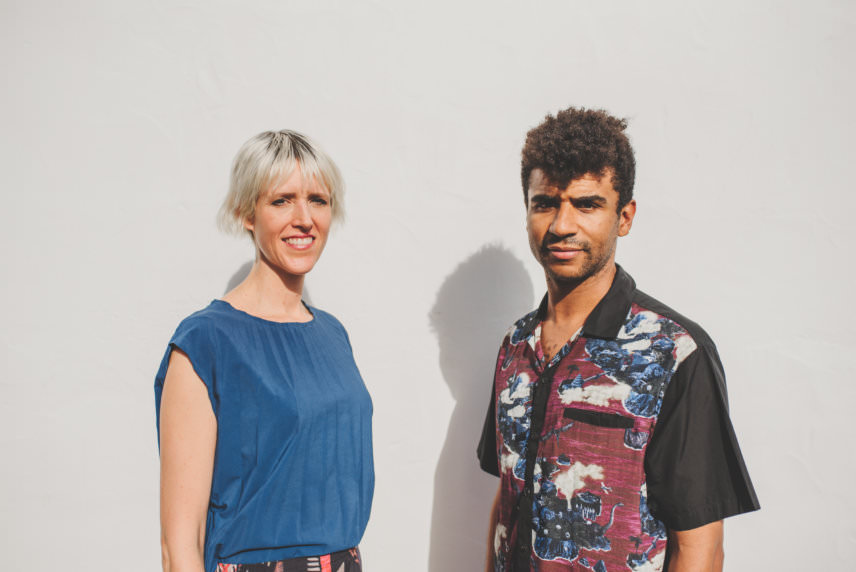 Over the last six years or so, Kate has been putting in a superhuman amount of work to not only follow a formal musical path by studying a masters in Composition for Screen, but also forming the genre-defying London Electronic Orchestra, which not only reinterprets tracks made for the dance floor but conceives and produces its own electronic-classical compositions. Each member contributes to the music played by the LEO, with Kate as the main composer and writer and they have been performing together since meeting at the RCM back in 2012. They have performed in Ibiza and London, with the Royal Albert Hall, The Jazz Cafe and The National Gallery among their more prestigious appearances.
Opus 1 is a meeting of minds that has really pushed both Jamie and Kate and got the two workaholics working harder than ever. "Notating the orchestral parts can be painstaking but it's what drives both Kate and myself," Jamie explains. "I don't mind sitting in the studio for 14 hours, there are far worse things you could be doing for sure!"
Jamie has been producing for well over a decade, with his discography packed full of singles, EPs and a solo album, 'Don't You Remember The Future', which dropped back in 2009. In recent years he's been steadily learning how to read music, and Opus 1 has helped him progress with this endeavour no end. "I've been slowly learning how to notate over the last few years but I must say that Kate does most of it. We'll work on music in the studio together and we both use the same classical software, one of them is called Garritan," he explains.
Adding, "We work in Logic and one of the good things about that is you can switch views; one of those views allows you to work with sheet music [for MIDI pads]. Kate is always in that view, so it's been good for me to see how MIDI chords work. It's an exciting thing to implement into the production. The hard part is noting all of the subtleties that come with performing as an orchestra, which Kate is mostly responsible for. My main area is the drums and the electronic parts, I also assist with the flow and energy of the compositions."
Like many of the world's most successful people Jamie never tires of learning, and he admits that he geeks out on online tutorials just as much as most production fiends do. "This project is exciting for me, it's another outlet – I love learning. I'm hooked on YouTube tutorials," he laughs. "My girlfriend she hates it. She'll walk into the studio and catch me listening to another one of the tutorials and take the mickey out of me!"
From the off, Kate and Jamie eased into their respective roles, concocting a productive workflow that allows them to collaborate smoothly despite the distance between their respective studios; Kate in London and Jamie in LA, mostly. Of course, technology has played a key role in this process, not just on the production tip but also for communication.
"Working with Jamie has been great," Kate says. "Despite the long distance, we've worked really well together, there's been a constant exchange and flow; even when I've taken the ideas we've sketched out and put them into notation software for the orchestra, they've been sent back to Jamie and he's stayed on top of everything. Technology is a beautiful thing!"
Explaining their working process in a little more detail, Kate tells Attack, "He sends a lot of stuff as voice memos and he's really kept the momentum going. He'll come up with stuff and send it to me; of course there's a lot of work at my end with the orchestration but he keeps the songs from getting stagnant. He's always pushing forward with energy and ideas."
Notating the orchestral parts can be painstaking but it's what drives both Kate and myself.
Adding, "It's good to have someone's ear who's listening to different things to me, and it helps me to see the bigger picture because I'm usually most concerned with what each of the 27 instruments is doing."

For Jamie, too, there have been some important lessons, which he hadn't anticipated. Proof of the old adage that you really never stop learning, "Thinking about music that's being played by an orchestra –

what works with the song and the way it's performed with all the different players playing – has been really nice. It's been great for me to step away from the really edgy club stuff and step into something that's a bit more rigid, especially in terms of performance."

He adds, "One of the songs we'll be performing, called 'Sweet Rhapsody', which we're going to release after the show's done, was originally Kate's idea. She started with the chords and we sat down and added more chords and some piano keys, and I got a live bass player in so it's come out like a really cool disco song. In the beginning, though, the chords were nice but they weren't the kind of chords I would usually start with. I usually start with a good groove or really emotive chords, something 'hooky' – they were but they weren't something I would have done. It really taught me that chords don't always have to be epic to start off with and it's actually turned out to be my favourite songs that we've written."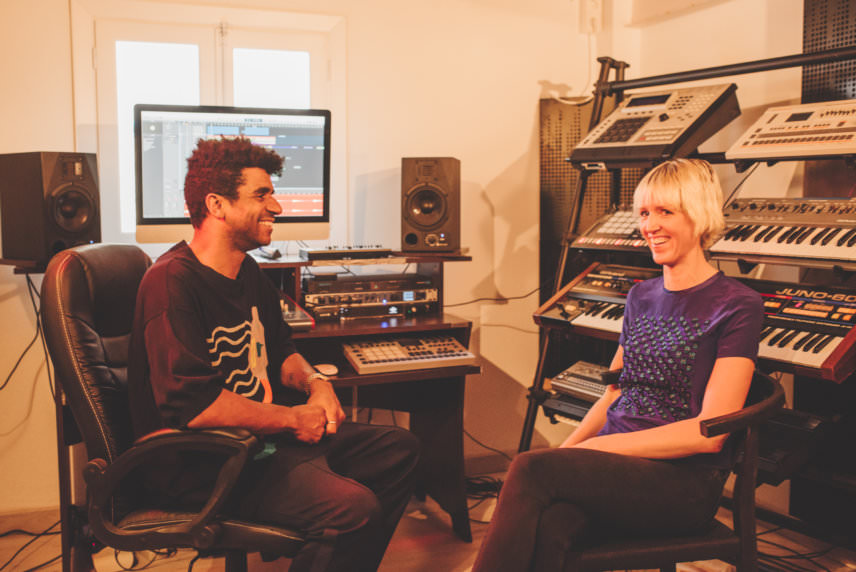 Kate echoes Jamie's comments, revealing that her work in the classical domain has led to less focus on 'hooks', and a more concentrated level of emotional depth. "Jamie and I both agree that this has pushed us to make genuinely emotive, really melodic, deep emotional, musical electronic music," she explains. "When there's an orchestra it's not enough to sit there and be like, 'Ok cool, we got that one hook, or one melody that we need and the other people can just sit there' – as I can sometimes do when I'm making tracks on my own at home."
A bond was formed when Jamie invited Kate and the LEO to perform at his Boiler Room show held at a plush villa in Ibiza, where they debuted 'One Time Game' a collaboration that featured Gem Cooke on vocals. The track, released on Emerald City – the label owned by Jamie and Lee Foss – in 2015, was the first step towards Opus 1. Since then they have performed in Colombia, where the Colombia National Symphonic Orchestra reworked their songs, with Kate guiding them all the way. They also recorded 'Dark Delirium', a track that was featured on the LEO's debut album. Opus 1 is their most ambitious project to date, and marks a milestone for both artists in respect of its magnitude and complexity.
Though it's been hard work throughout, Kate's experience with translating electronic compositions into the classical arena dates back several years now, giving her a good understanding of what works, and how to go about the complex process of taking an arrangement to the orchestral level. In doing so, she has achieved a much deeper understanding of what it takes to see it all through from beginning to end. "Electronic music is so much about frequencies and emotion," she tells Attack. "It's pretty dense too, there are a lot of layers – we're using the full band of frequencies; you've got the sub-bass, the kick drum above that, then low percussion, high percussion… it's a pretty busy form of music, so the biggest challenge for me has been; how do you portray, or respect, that when you're transferring this music into the orchestral domain?"
Adding: "Sonically, it's a genre that is dense and I'm wrapping my head around all of that while working with the orchestra. I finally have a sixth sense with this now, I'm working to find a good balance between the electronic compositions and what we're doing with the orchestra and I think we've achieved that balance."
Electronic music is so much about frequencies and emotion.
Speaking about why electronic music works so well when it's transferred to the orchestral arena, Kate emphasised one of the key parallels between the two styles. "One of the reasons why electronic music works in this context, and one of the reasons why I loved it in the first place, is that it's 'listening music'," she says. "It's music without words (in the main) and the key commonality between electronic and classical: you don't need vocalists. It's music where you go on your own journey, there are no words to influence your experience of it; so it's quite similar to classical in that respect if you're just listening to it."

Valeria Kurbatova, who plays harp the LEO, also spoke to Attack about her experiences with electronic music. Trained in her native Russia, Valeria played her first solo at the age of nine at the Great Hall of Moscow Conservatoire. Later, when she was studying at Academic Music College of the Moscow Conservatory she began to merge her love of classical music with electronica, playing harp over DJ sets. Inspired by artists such as Bonobo and Nicolas Jaar, she has been working in both musical spheres ever since, even trying her hand at producing electronic music herself.  "I've been playing around with Logic,

but I'd like to have matured a bit more before I play it to anybody," she revealed. "By doing it yourself you realise how much goes into producing it. Sometimes people think that anyone can make electronic music but it's not true, there's a lot of work that goes into it; production and post-production, and you have to know how to do it properly. I'm practicing, learning how to sample my harp and incorporate that into it, I'd love to explore that a bit more myself."

She continues, "It gets called repetitive, but repetitive doesn't necessarily mean simple. Kate and Jamie's music is repetitive because of the structure but there is a lot of finesse to it and there are lots of changes, with the live instruments involved there are a lot of very exciting moments."

Conductor Robert Ames also complimented Jamie and Kate's hard work, "I'm just now getting stuck into the scores," he tells Attack. "They've been put together beautifully and I can hear the show is going to sound amazing. It will be a really exciting evening. For me the focus will be on making sure the orchestral elements of the music match the energy of the electronics. It's important for the two sound worlds to fuse together."

Rob's experience with the London Contemporary Orchestra has allowed him to explore the connections between classical and electronic music for quite some time. He has an appreciation of electronic music that is aligned with the rest of the LEO, Kate and Jamie. Previous work includes collaborative performances with Actress and work with esteemed artists such as Phillip Glass and Steve Reich. We'll leave the last word to Rob; asked what he would say to someone who looks down on electronic music, he simply says, "Listen to Aphex Twin."

Jamie Jones and Kate Simko present 'Opus 1' at The Barbican on 27th November. Tickets available from The Barbican website.

Photography: Maria Pinta