For this month's Job Envy feature, we spoke to James Araujo, marketing director at Mixed In Key.
Name?
James Araujo.
Place of work?
Mixed In Key.
Job?
Marketing Director.
How long have you had the job?
I started working at Mixed In Key five years ago as a part-time customer service representative. Then, I started taking more responsibilities and now I am the head of marketing for the company.
What does a typical day involve?
I get up early in the morning, have breakfast, feed my cats, do some meditation, reading, then start my day at Mixed In Key.
I usually start by checking any unread messages on Slack. Then, do a quick check on our email inbox to see if there is anything urgent that needs our attention. After that, I check on our ad campaigns to make sure everything is running smoothly.
Everyday there is something new to do, to be honest. I am in charge of all the Facebook and Google ad campaigns, so I usually check their performance on a daily basis, create new campaigns, pause some others that ran out of steam. The day is usually full of Zoom meetings and Slack chat with other team members discussing software development, marketing strategies, content creation, and many more topics.
I also reply to messages and comments people post on our social media posts. In addition to that, I manage our customer service team to make sure we are providing top-notch and fast responses to everyone who emails us. We reply to all emails within 24 hours maximum, but we always try to keep our average response within a couple of hours from receiving the email. I am pretty much involved in a lot of projects within Mixed In Key. It never gets boring!
Highs of the job?
I've been a fan of Mixed In Key products since 2011 when I bought my first copy. So, this is my dream job and I am super grateful to have it.
There are so many highs that I can list here such as working remotely, the ability to adjust our schedule, paid vacations, and so many more. We also do some awesome team meet ups in amazing places like Orlando, Amsterdam, Ibiza, Nashville, and many other places. The fact that we are building innovative software that was literally never done before and helping other DJs and musicians in the industry is the coolest thing ever.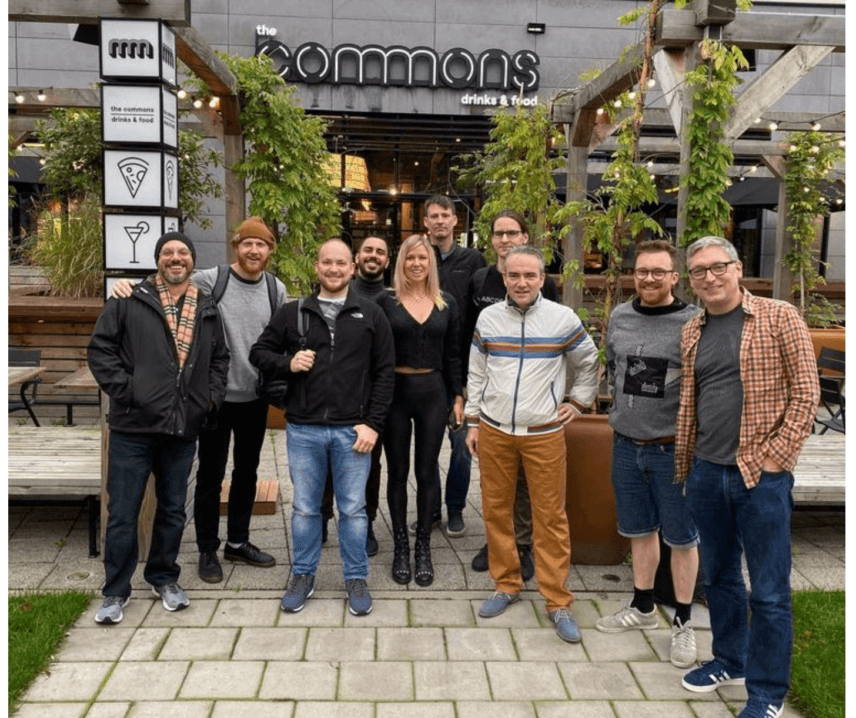 Lows of the job?
There are not lots of lows in this job, to be honest. I love it. But, if I had to say one, I would say: working remotely. It's definitely something I love about the job, but at the same time, it's good to have that personal touch that you get when you work in an office. The team meet ups definitely help with that though. We always have a lot of fun and are very productive when we get together in a room.
How did you get the job?
I saw a post on the Mixed In Key's Facebook page with some job openings and applied for the customer service representative role. I made it to the final stage, but someone else got the job at that time. A few months later, Yakov, our President and Founder, sent me a message asking if I was still interested in the job, and of course, I didn't think twice before accepting the offer.
What did you do before this job?
I was working with my family business companies where my mom is a Director. I was doing a bit of everything in the company, mostly helping out with different tasks and projects. I didn't have a specific role in the company.
How can we get your job?
You need to be the best at what you do. We only hire the best out there. You also need to be willing to learn and take lots of initiative.

Who are the people who've had the biggest influence on your career and why?
My mom's work ethic has always been a great inspiration for me. It doesn't matter how long she has to stay in the office during the day, she gets the job done. I am the same way.
If you give me a project to work on, you can be sure that I will get it done. My dad is a risk taker. He went to live in the US 20+ years ago by himself and made a living there till today. He taught me to take risks and provided me with the opportunity to study and live in the United States, which was a major boost in my career.
My wife teaches me a lot everyday. She is very easy going, which helps me loosen up a little bit and relax during those tough days. She makes me a better man, which makes me a better professional.
Yakov, our President, has taught me so much and has given me the opportunity to grow as a person and professional inside Mixed In Key. I've learned priceless skills that I don't think I would ever learn just by reading books or going to school for it. Every day is a new lesson here at Mixed In Key. Yakov is the leader I strive to be. If I am in doubt, I always ask myself, what would Yakov do? He is more than a boss, he is a friend.
Have you ever thought about going it alone?
It never really crossed my mind, to be honest.
What's the one bit of advice you wish you'd known at the beginning of your career?
Have a learning mindset and take initiative. You need to be learning something new every day. Things change really fast and you need to be on top of these changes. Also, apply everything you learn. Sometimes, we get too stuck in the theory and don't actually apply the things we talk about. If you are always learning and applying what you learn, you will do really well. You will make mistakes, but it's part of the process. Taking initiative is the best thing you can do.
What's the biggest mistake you've made in your career to date?
I think the biggest mistake was one time where I created a Google ad campaign and forgot to segment it properly. It spent a couple of thousands of dollars over the weekend delivering the ads to people who were not our target market at all. Luckly, I was able to catch it early before it cost much more money for us. Now, always double and triple-check the segmentation on the campaigns before it goes live!
How would you like to see your industry develop over the next five years?
I would love to see more and more people making great music. I think that's our goal as a company: build tools to help people make great music.
Find out more on Mixed In Key on their website.