32 years ago this week, Quentin 'Tin Tin' Chambers, Jeremy Taylor and Anton Le-Pirate put on their infamous rave, 'Energy' at the Westway Film Studios in London, an event that has since gone down in rave history. We chatted to Quentin who now owns music and arts platform Openlab about those crazy days of summer 1989. 
The first Energy rave in May 1989 was something of a landmark event, simultaneously epitomising the entrepreneurial, freedom-loving, law-avoiding buccaneer spirit of the burgeoning UK rave scene while introducing new previously unseen levels of production. Quentin 'Tin Tin' Chambers takes up the story:
Quentin Chambers: The concept for Energy came about after a summer of raving in '88 and a meeting of minds with my friend Anton Le Pirate. We were extremely passionate about the acid house scene and simply wanted to throw the best event we possibly could. Events that really focussed on an immersive experience. Till that point parties, whilst incredible atmospheric, were fairly minimally produced. Jeremy and I had put on a number of events in 88 and earlier leading up to Energy. Mostly warehouse parties that got raided!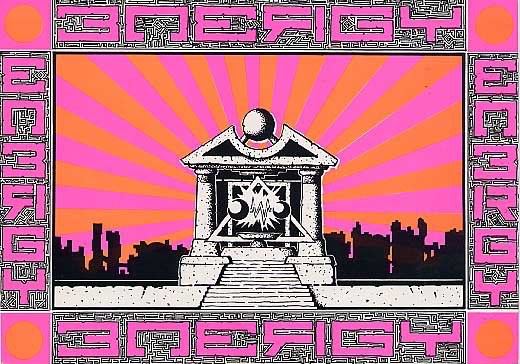 Jeremy, who was an experienced events organiser, found us a super cool three-room film studio in West London, Westway Film Studios (now Westfield!). This was the perfect canvas for realising the vision we had. We had another friend Marc Homes, who just graduated from Camberwell Art School as a stage/set designer. Marc, or Hobs as he is known, was an unbelievable creative and joined Energy as our Creative Director. Together we planned out the concept of building a temple in the middle of the room as the focal point of Energy at the party. This temple (built from film props) was essentially an enormous multi-tiered podium. We painted the entire surrounding walls of the film studio in a futuristic skyline scene. If you look at the flyer, we basically re-created that almost exactly. That was just the main room. In the second room we built a more detailed version of the futuristic skyline, basically taking inspiration from Blade Runner. The 3rd room we built a Pyramid using mesh and projection-mapped it.
The party itself was incredible. No one had been to anything like it. The production was so strong it pretty much blew people's minds. And of course this was May 1989, with this party being the next big step up in event scale in advance of the huge raves of the summer of 89. The scene was exploding around then – we had 6,000 inside, and the same outside trying to get in. Cars were crushed on the street outside as people tried to clamber over the walls; it was some scene…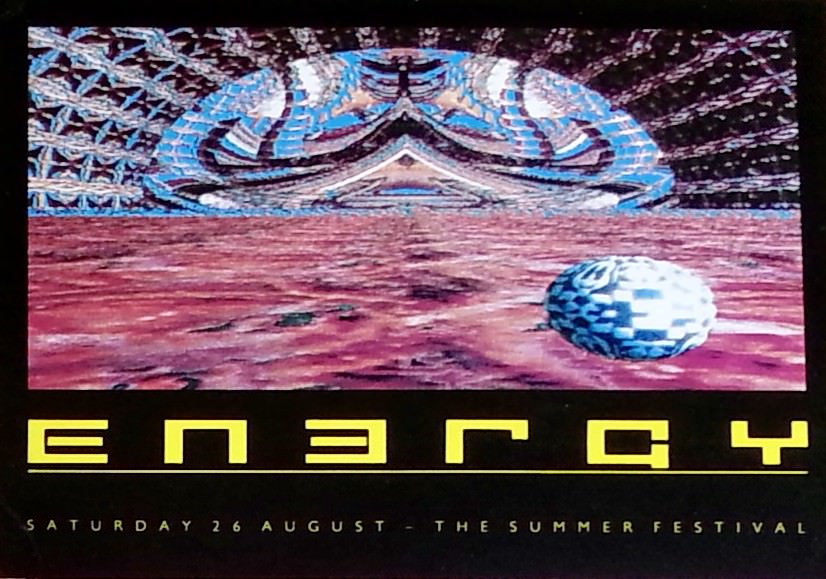 Attack Magazine: It was an illegal party right? How did you get away with it?
So, the thing was back then, there was a law that stated if you were a private members club, you did not need an entertainment license. We actually gave membership out with the tickets and kept a record of all our members. At one point we had 100,000 members. Not only did this provide legal cover for us (even going into the massive 25,000 people parties we did later in the summer), but it also allowed us to market directly via a mail list (actual mail ha ha). In all our events we had a lawyer on site to deal with the police (who always wanted to shut us down). The real trick to getting your party off the ground was to keep the venue secret till the evening. We organised for our agents to meet groups at meeting points and we also used phone lines to give out info on the venue last minute. Once you had enough people inside, the police would have to let the event go on.
Attack Magazine: It was Oakenfold's Spectrum that turned you on to the acid house movement, is that correct?
Spectrum was the first weekly event that I went to religiously. Although my first true acid house experience was at Hedonism in West London in Feb '88 I think. I was very much a clubber before that too, intro electro and northern soul, being a regular at places like Mud Club, WAG, Limelite, Delirium and Embassy. London clubs pre acid house, and on the cusp were phenomenal. That was a great time to be alive.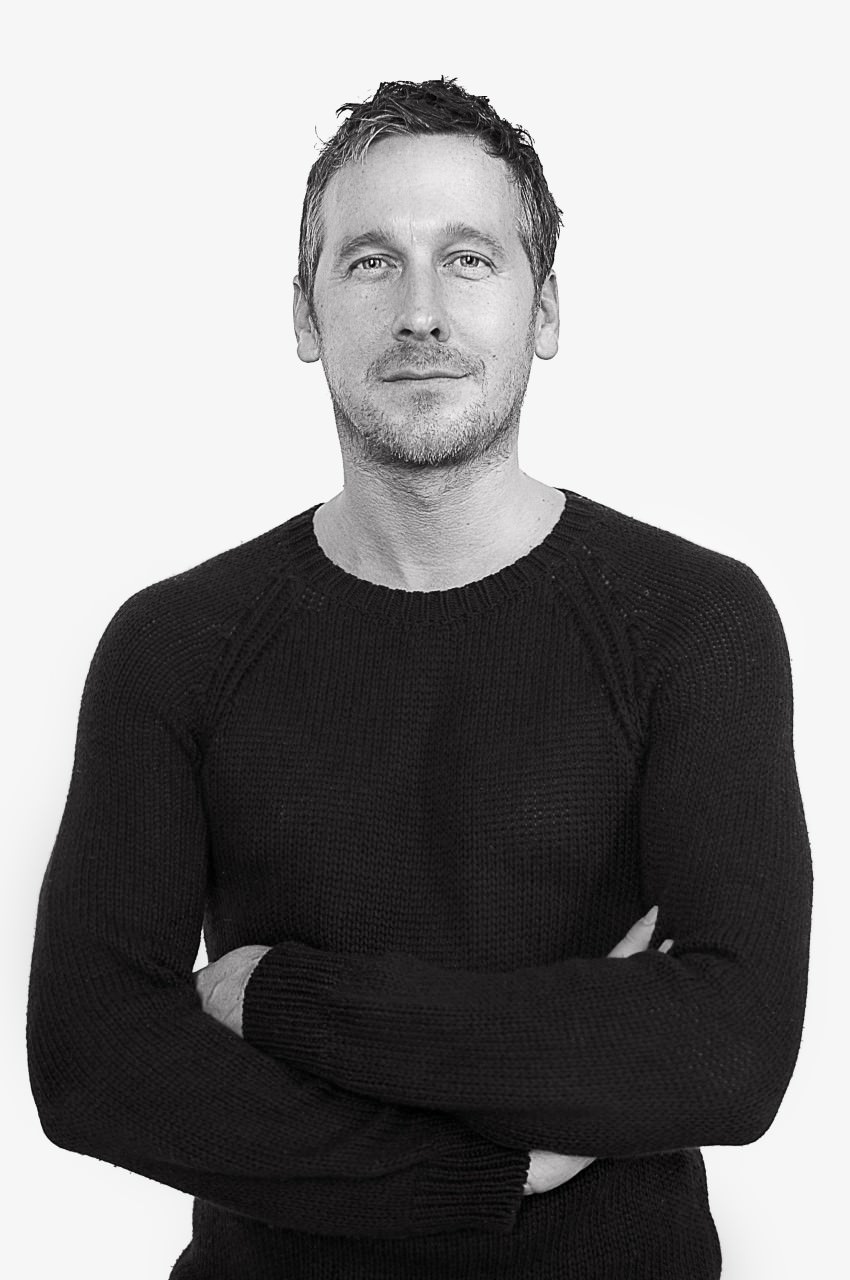 Can you tell us a bit more about what London's club/dance/rave scene was like in 1988?
It was incredible. Life-changing. The scene was so small, maybe just a few thousand people at the beginning in London, all going to the same places night after night. If you spotted a fellow raver on the street in their Mambo's, there was a connection. You might end up going back to their house to listen to records or end up with them still a week later after 5 parties. I would be out every night! Mixing with like-minded people from all backgrounds, getting on, dancing, being crazy, loving each other. This was so new, we were so free. The parties themselves were raw, the music infectious, authentic. It was like nothing that had happened before in a real sense. We all felt part of something big but it was lighthearted. I was a kid, and we behaved like kids.
You say you had a sense that you were part of something bigger…
Yes, but I had no idea 33 years later this culture would still be here.
Can you remember any particular stand out moments from the Westway party?
Adamski Live. I was on the enormous 20ft high scaffolding stage with him, the thing wobbling like mad, with a laser piercing the back of our head, just looking out at the sea of people with their hands up and faces in ecstasy. And then turning around to see my partner Anton, facing the other way, head in the massive laser at almost point-blank range with his arms outstretched like Jesus on the cross… that's etched on my brain forever, and probably the laser in his too.
For some younger folk, it's hard to imagine how revolutionary this all felt at the time – can you talk a little about the experience, what it felt like to be organising these events?
Obviously being part of a scene like the 88/89 acid/rave movement was something incredibly special and privileged. It felt amazing. And of course when you are promoting you are right at the centre of everything. You live and breathe it. You are connected. And back then there were just a few of us doing this, so we all paired together and collaborated often, we were all on the same mission. And we were all living this hedonistic life 24/7. You would emerge from one party, and head into another. We didn't sleep for days. I made some amazing and lasting friendships, but also those connections with strangers for one night that I also never forget. This is of course not limited to this period, that's one of the legacies of this scene, it created a platform that's still very meaningful today. Of course, I was just 19 when I started Energy, and 18 when I started promoting… I'm not sure whether I would have the balls or the energy to do what I did then at the stage of my life I am now. I'm excited for what's coming next.