Musician, performer and internet sensation Marc Rebillet has had his life flipped upside down after his notorious rise online. Oliver Payne discovers the 'Marc behind the meme' ahead of his first European tour to figure out how he's managing to keep the party going. 
Marc Rebillet is the viral musician with a personality larger than life to say the least. Residing in Brooklyn, Marc's spiritual home is online where videos of 'off-the-fly' tracks – made via a loop pedal and not much else – are embraced by his quirky approach, daring dance moves and inability to hold back on laughs. Tranquil, the performer sits before me on Skype: a rare moment amidst the musician-come-comedian's exhausting schedule where he's sat, relaxed on a sofa but nursing one hell of a hangover.

"I lost…" Marc mutters, piecing together the aftermath of his New Year's Eve show in Vegas a few days previous where he found himself in casinos till 3am. "Take money you don't mind parting with and plan to lose it!" He laughs. "That's my philosophy. I always plan to lose!"
2018 however was a winning streak for Marc. He released the 'Loopdaddy' album as well as having his live act blow up all over the internet. The build-up to these videos comes from a combination of being classically trained in piano as a child and a lack of interest in studying. "Just years of me being a little shit, is basically what that is!" he explains critically of his departure from college. "I've been acting since I was a kid. I dropped the acting thing after a year in college after falling out of love with it and so when I decided to try and make music for many years. I just tried on the side to produce beats – and unsuccessfully. "I sort of taught myself how to compose, mix, assemble banks of instruments and develop an ear for what sounds good. I got this looper. That sort of opened up this whole other realm of possibility for me in terms of… well, it sort of made it a reality; this sort of dream that I'd had for a long time of just being able to make shit on the fly immediately. I just ran with that and started recording myself doing it. Now I'm going to London and playing shows for people!"
The now legendary setup Marc uses is simple but effective and designed with improvisation in mind. "On the technical side it's a Macbook Pro and I run Main Stage. That's my DAW which is really just a live environment for Logic. "I have some Cinesamples virtual instruments. Some Rob Papen bass sounds. I use Massive – lots of great sounds on Massive. Drums of War: another Cinesmaples thing. They have a great taiko drum kit and then just a tonne of 'one hits' that I have downloaded over the years that I piece together and make custom drum kits out of." And this all comes together on stage alongside the exuberance of Marc – influenced by the likes of Bud Powell, James Blake, Flying Lotus, Mad Lib, J Dilla – who's downright bizarre subject matters are booted right to the laughing crowd via a truly energetic and practiced, polished way of playing.
Often, even the crowd's response can inspire the next track or indeed the whole following segment. Marc refers to his love of improvisation and giving a spontaneous show: "If I had it my way I would have a glass box around me, I'd surround myself with the audience, put myself in the middle of the audience so people could just watch me make shit up for an hour." But of course there's the anthems, such as 'Reach Out' which means the live show has to be shelved on occasions. Now with an album under his belt Marc is opening up to the idea of playing the anthems people know and love.
Special moments crop up every now and then, though. "I thought it was Berenstein Bears," Marc says, mentioning his own train of thought that invaded a recent set. "I thought it was BEARENSTEIN Bears but it's not it's spelt BEARENSTAIN bears and so I was thinking about that… and just did a fucking twenty-minute stupid-ass bit on it at this show I did in Brooklyn a few weeks ago."
He performs with an M-Audio Axiom 49 key Midi controller. "I really don't know if I could ever use anything else because the drum pads are so delicious and that's just a killer keyboard. I've used Akai keyboards. I've used other set-ups and the drum pads just aren't right these are very sensitive, very tactile, and just have a lot of velocity sensitivity so I really love that. The loop station is a Boss RC505 and my mic right now is an Artix OM5 which has a really tight pick-up pattern."
If I had it my way I would have a glass box around me, I'd surround myself with the audience, put myself in the middle of the audience so people could just watch me make shit up for an hour.
It's clear as Marc runs through the show format, however, that putting his own personality out on a plate for all to digest night after night is draining it out of him. His usual high energy is non-existent, almost like it's been used to the max – or maybe that's just the fallout of Vegas. "It's been absolutely insane and exhausting and completely and utterly draining," Marc admits, remarking upon the last couple months of tireless touring. "It's a strange sensation and not one I have had to confront before. Throughout my life I have always been a very high energy, very positive person and I have had to take in that part of me and divert it into these shows. And so as a result when I am not on stage I find myself in a very different place that I usually am which is a place that is anxious, stressed and tired."
Gaining traction online can flip a life on its head, and suddenly you can be in-demand by everyone. And this is clearly the case for Marc, but it's not like he's down in the dumps. It's just all happened so quickly and touring life away from the creative zone of his own room is a life he must adjust to, 
which can take time. To Marc, in this moment, the prospect of touring all major cities in Europe in two weeks' time seems daunting. But fans can be sure the energy and passion poured into each performance so far will be there on the night. "I think it's about finding a balance. These last three months and particularly coming up to Europe I've realised I am deeply overscheduled. I understand that I committed to it [the tour] and I certainly don't want this to feel like I am angry about having to do this because I'm not. It's an amazing opportunity and I'm grateful for being able to do this for a living . It's the logistics of it and my capacity to handle putting that much energy out there every night for fifteen nights in a row. It's insanity. It's completely insane."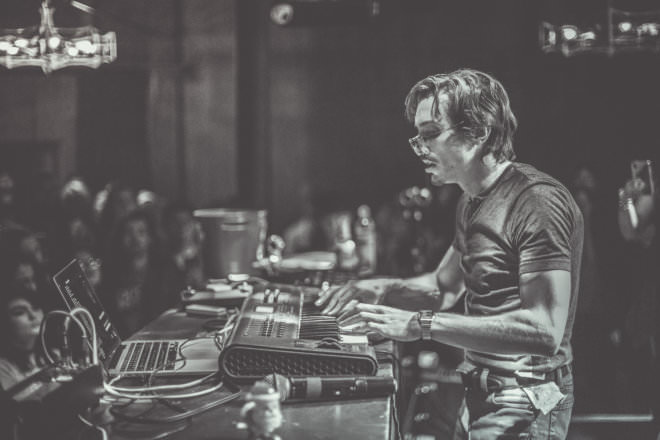 The future looks better and better for Marc Rebillet. He cruises through plans for the year at speed. Another US tour. Major venues. New formats. News ideas. He jumps at the thought of festivals. And it seems what we've seen so far isn't even the tip of the iceberg of Marc's talent or his hilarious creations. But, for now, Marc's head fixates on recovering, healing for another barrage of heavy touring. I joke that he could just begin each show with slow, smooth jazz; simply sat still. "I may very well do that for a show or two! I may very well have to do that: less talking, less singing, more instrumentals. I may very well have to do that as I can't see any other way I will survive this."
Catch Marc Rebillet on his UK tour this January. For more information and tickets go here.
Follow Marc Rebillet on Facebook, Twitter and Instagram
Oliver Payne is a freelance writer and regular Attack contributor. Follow his dance music associated musings on Twitter.