Bleep Techno, Jungle, Drum & Bass, UK Garage, Dubstep and Grime – some of the finest innovations in dance music over the last three decades have been in UK Bass music. We take a look at some of the best books on the subject.
The term 'UK Bass' music covers a wide range of genres, depending on where you draw your boundary lines. Broadly speaking, you could argue that UK Bass music has its roots in Jamaican sound system culture but really kicked off with hardcore rave and bleep techno in the very early 90s before developing into jungle and then Drum & Bass, followed by UK Garage, Dubstep, UK Funky and Grime. All these genres were pioneered in the UK and all can be considered part of the UK Bass tradition.
The primacy of 4/4 house and techno in UK clubs and in the press over the last three decades has led to UK Bass music often being treated as 'second-tier': good, but not quite as good as mainstream 4/4, forever relegated to Room 2s and lower down on the festival line ups. Bass genres have also often been the subject of disproportionate amounts of attention from the authorities, overzealous policing and a public perception that has racist overtones. But the story of UK Bass and its influence on the larger dance music culture is every bit as vital and important as the stories of house and techno.
It's a story that is passed on in many different ways, not least through the music itself, but many authors have contributed to documenting the various forms of UK Bass music too. We take a look at some of the best books about the UK Bass story.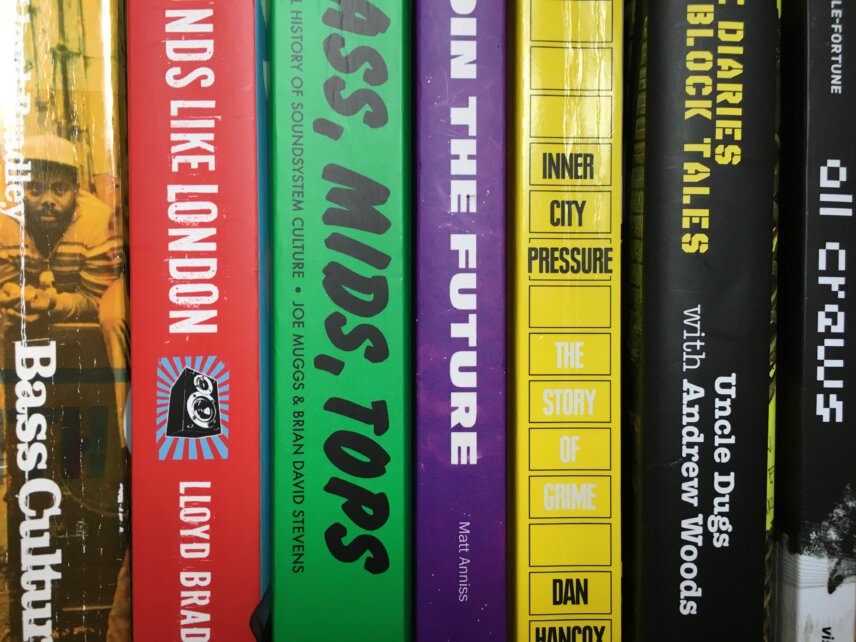 Bass Culture: When Reggae Was King- Lloyd Bradley
If Bass music is rooted in sound system culture, then Lloyd Bradley's 'Bass Culture: When Reggae Was King' is a great primer for anyone interested in the birth and influence of Jamaican music in the 20th century. The book covers the rise of Jamaican sound system culture in the 1950s, through Ska, Rocksteady, Roots Reggae through to Dancehall as well as the birth of Lovers Rock in the UK and the late 70s early 80s boom in UK reggae. It's a detailed and continually engaging read, and you could create a truly superbly curated reggae collection just by acquiring the tracks Bradley builds his narrative around.
Sounds Like London: 100 Years of Black Music In The Capital – Lloyd Bradley
The same author was also responsible for this wide-ranging and fascinating look at the history of black music in London. Beginning in the early years of the twentieth century, 'Sounds Like London' tells a hundred year-long story that includes, among many other subjects, UK reggae, the soul/jazz-funk scene, Brit funk, pirate radio, Rare Groove, warehouse parties, sound systems and the birth of rave in the capital, documenting and examining all the precursors to the plethora of bass-based music that would flower in the 90s and beyond.
In a book full of interesting stories and discussions, Bradley's dissection of late 70s Brit Funk is particularly incisive. He discussed the process by which a strong, healthy creative UK black music scene was sidetracked in favour of white artists playing a 'lite' version of it. Bradley notes that the UK early 80s Jazz-funk flavoured pop scene of Haircut 100, Wham!, Animal Nightlife, Spandau Ballet, ABC and The Style Council were "often helped out by [black] jazz funk players" from Brit Funk bands like Central Line, Hi-Tension, Light Of The World and Beggar & Co: "With these developments, the record companies' repositioning of jazz/funk as just another pop style was complete, effectively slamming the door on the original bands".
'Sounds Like London' covers the period up to 2016, so it also delves into the world of jungle drum & bass, UKG and grime too.
Bass, Mids, Tops: An Oral History of Sound System Culture – Joe Mugford and Brian David Stevens
A collection of in-depth interviews and gorgeous photos documenting UK sound system culture from its inception to the present day, from Reggae to Rave to Grime. Lovingly put together, 'Bass, Mids, Tops' presents the entire story of UK bass music and its surrounding structures, as told by the people who created it and participated in it. The likes of Jumpin Jack Frost, Skream, Dego, Norman Jay, Rinse FM's Sarah Lockhart, George 'Nightmares On Wax' Evelyn, Dennis Bovell, Shy One and Cooly G and many more are interviewed at length, allowing the reader to really get a view into the raves, record labels and pirate radio studios that made UK bass.
Whether it's Krust talking in detail about his approach to sampling, DJ Storm on the intricacies of the blend or Norman Jay chatting about putting on illegal rare groove warehouse raves, 'Bass, Mids, Tops' is an absolute treasure trove of UK club culture history.
Join The Future – Matt Anniss
When it comes to bass music, the Bleep and Bass or Bleep Techno music of Northern UK towns like Leeds Sheffield and Bradford from the late 80s / early 90s was an important step, the UK's first real homegrown contribution to modern dance music.
Anniss presents an extremely thorough account of the period, told with a journalist's attention to detail. 'Join The Future' is an attempt to re-tell the early years of UK dance music, revealing the untold stories of Yorkshire's bleep techno pioneers, artists including Unique 3, Nexus 21, Nightmares On Wax, Ital Rockers and Forgemasters. Anniss spent five years researching his book and it shows, his meticulous level of detail giving weight and importance to figures who were perhaps previously marginalised in the accepted history of UK dance music.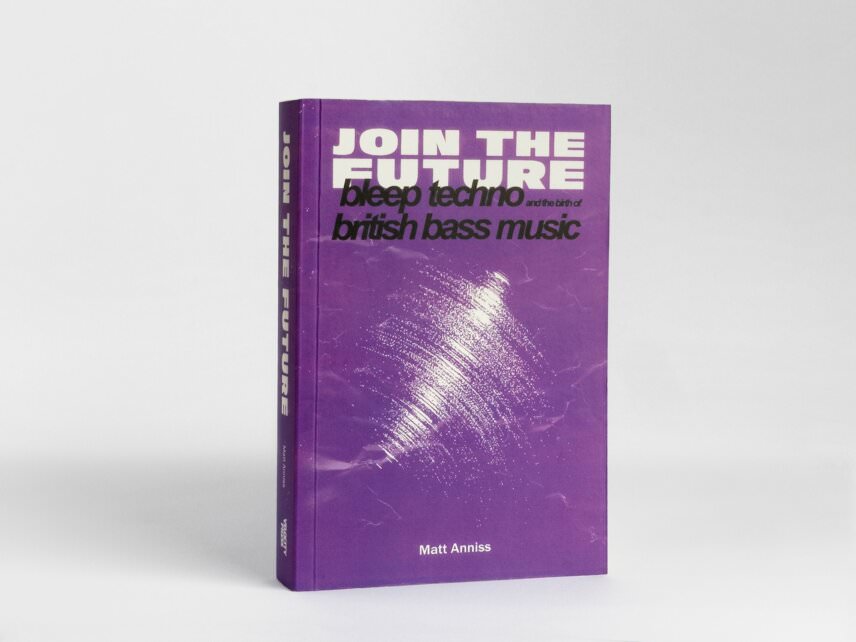 Anniss is great at telling the various individual's stories and you really get a feel for the period from the interviews with so many protagonists. 'Join The Future' is an important piece in the jigsaw of UK bass music history and in dance music history generally.
Rave Dairies and Tower Block Tales – Uncle Dugs & Andrew Woods
If you ever questioned the commitment of those who run pirate radio stations, then the tale of Dugs and colleague treading water in a water-tank on a tower block roof to dodge the DTI should put you straight. DJ Uncle Dugs currently has a residency on (the now legal) Rinse Fm and in his time has served on the decks at pirates Conflict, Kool and Rinse FM. 'Rave Diaries…' covers the early days of UK Rave and the emergence of Jungle through to UK Garage, Dubstep and Grime and details a life lived on Pirate radio.
With contributions from Goldie, Chase and Status, Zinc, Jumping Jack Frost, Slipmatt, Billy Daniel Bunter, Nicky Blackmarket and more, the book is told in Dugs' authentic down-to-earth voice and is packed with funny tales as well as the proper nitty-gritty details of setting up, running and playing on playing pirate radio stations. The sections describing the hair raising tales of fixing ariels on top of windy tower blocks and outwitting the authorities really bring home the true outlaw nature of pirate radio.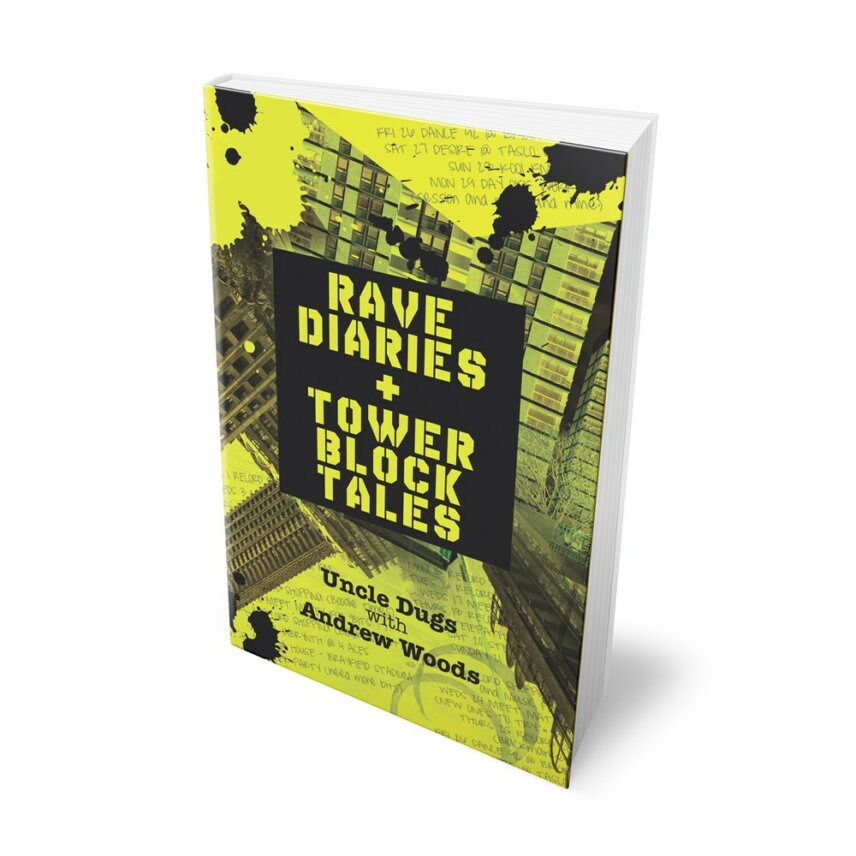 'Rave Dairies and Tower Block Tales' is an insight into the shady world of pirate radio from someone who has been on the scene since the early 90s and is also a record of the developments and changes in UK bass music in the last three decades.
All Crews – Brian Belle Fortune
For an in-depth look into the history of jungle and drum & Bass, Belle Fortune's beautiful looking book is the perfect starting point. It's a great looking book that has something of the fanzine to its design. 'All Crews' tells the story of jungle via up-close interviews and anecdotes from the top artists, DJs, promoters and players.
Kicking off in 1988 it charts the ups and downs of Jungle through into Drum & Bass and beyond, documenting a phenomenally creative genre where it sometimes seemed that every week the boundaries were bust open by a producer taking the sound to somewhere fresh.
From the moment when the author tries to write down what Dillinja has in this studio and makes the producer uncharacteristically agitated, to sitting with Shy FX through his process as he produces another killer remix, Belle Fortune is right in the thick of it; this book is a genuine look at jungle from the inside.
Inner City Pressure – Dan Hancox
Hancox's 'Inner City Pressrue' documents the millennial London sound of grime from its inception in the early years of the twentieth century to its current international success
In telling the story of Grime, 'Inner City Pressure' recognises that the history of music movements and scenes can rarely be separated from the geographical location they come from and Hancox tells the story of London through this period too, from the council estates of Bow to the houses of parliament. It's the era of successive government-driven gentrification in tandem with defunding of services and the closure of youth programmes and youth centres, set against the backdrop of policy decisions that included the notorious Form 696, the method used by the Metropolitan police to clamp down specifically on Grime events.
It's a rich social history as well as a music history, peppered with interviews with all the key players including Dizzee, Wiley, Stormzy, Skepta, Lethal Bizzle and more. At its heart, 'Inner City Pressure' is an inspiring story of of a bunch of kids from estates who created a brand new world-class genre with little more than some cracked software and cheap mics.