We round up the best Black Friday 2019 deals for producers and DJs.
Catch the Waves. Not so much a BF discount but a freebie, Waves have unveiled Berzerk: a new and free distortion plugin. Features include 10 original distortion waveforms, going 'Berzerk' with the randomise feature, feedback, gate/expander and dynamics section. This free offer is only available till Sunday and to take advantage sign up here. Waves are also offering 50% off everything site wide using code HALF at checkout, a get one free plugin when you spend $50 promotion and two free plugins when you spend $100 further promotion. More here.
This discounts a Brute. The one caveat here is that this deal is only in participating Arturia stockists and you can find your nearest dealer here. French manufacturers Arturia are giving you 50% off their MiniBrute 2, the MiniBrute 2S and second cousin once removed the DrumBrute. Read our review of the long term impact of DrumBrute here. Harder to discount on hardware so this is a great chance to acquire great kit at great prices.
Fly high with Spitfire. Forward thinking virtual instrument and sample library company, Spitfire Audio, are throwing a whole host of mega deals including 40% of their Hans Zimmer strings and a significant 73% of bundles. That's enough savings to go buy oneself a real viola or just get the next best thing instead. More here.
Zoia. Released earlier this year, this pedal is basically a modular synth – you can make it do whatever you want. With the Zoia you can build your own custom effects, synthesizers, midi controllers, and virtual pedal boards. Check out the video below and save this Black Friday.
Modular Madness. Matttech are doing significant Black Friday discounts including on their range from Pittsburgh Modular, Qu-Bit, Make Noise, Erica Synths and more. Patch in here.
Denon & Pioneer B2B. DJKit are offering some good deals on Denon and Pioneer. You can get the Pioneer DDJ-800 for £619 (down from £779) and the Denon DJ MC7000 for £599 (down from £724).
There's no place to home. That's right Attack are also trying to get back into the black this Black Friday. Save up to 30% off site wide. No discounts codes – all prices reduced till Monday night. The perfect gift shop for a dance music fan. More here.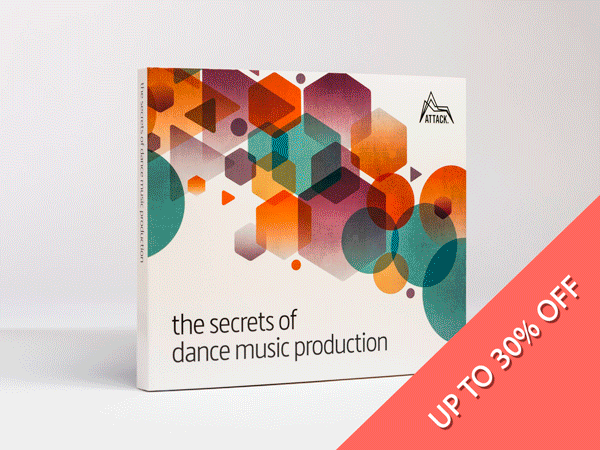 Tidy deals with Eventide. Black Friday can split opinion. But from a consumer's point of view 75% off from Eventide is hard to argue with. Their Anthology XI bundle, which includes H3000 Factory, genuine game changer Fission and the Blackhole, usually goes for $1799 but you can get it this weekend for $499. A steal.
A NewEra4 You. Accusonus, who's steady and consistent release of some pretty excellent plugins are also in the Black Friday mix this year. With several offers on the table perhaps the full bundle, at $499 (down from over $2,000), is the one to get most excited about. Crucially it includes their innovative Rhythmiq and Regroover plugins. More here.
Which kush is the best? Well, The House of Kush obviously. Anyone thinking anything else…shame on you. HOK are not only moving away from dongles they also have great offers on all software and hardware. Roll up roll up…(no not that type of roll..).
A solution going after a problem. Analogues Solutions Fusebox are also jumping on the Black Friday frenzy. It usually retails at $1,519 but is now listed at $1,111 which is around a 25% discount. This semi-modular synth is a steal at that price.

The season of giving. Adam Audio, a recent acquisition by Focusrite, are putting their new market position to good use and teaming up with Focusrite this Black Friday. Rather than offering discounts they are offering rebates. Customers have 2 purchasing options to receive a rebate – purchase a Focusrite Scarlett 2i2 3rd Gen and a pair of ADAM Audio T5Vs and receive a $60 rebate or purchase a Focusrite Clarett 4Pre USB and a pair of ADAM Audio A7Xs and receive a $360 rebate. Good for new producers. More here.
Massive…X. Fancy getting your hands on Massive X and were waiting to see what Black Friday might deliver? Well, good news as it's pretty…um..massive with 50% off instruments, effects and expansions but the one that really matters here is Massive X. Get to know or read our review here.
Check the Output. Fast rising Output are giving you 65% off their entire Output bundle – 9 engines and 20 expansions. Get the entire Output bundle. which is typically £2,080 for just £540. Over here.
Not quite the death of auto-tune. Universal Audio, purveyors of some of the finest plugins and classic hardware around are giving you their Analog Classic Pro Bundle and Auto-Tune for free with a Apollo x4 or Twin X. No excuse for being out of tune now.
Preaching to the converted? Save 25% on Ableton Live 10, upgrades and Packs but this deal only lasts till Monday. We're sure most Attack readers have all this already but worth putting out there all the same. In case you don't know where Ableton live online, here's the link.
Hard to get hardware discounts. It's harder to drive discounts on hardware than software so this is a good one as the Korg Minilogue XD is being sold at 18% off the standard RRP. It's unclear how long this offer will run and it's a beautiful bit of kit from Korg. Thomann are running this particular promotion. Expect them to fly fast.