Vault – also known as Danny Ward, Dubble D, Moodymanc and Balaphonic – is a UK DJ, producer and jazz musician. He's just released a highly funky compilation of beats and hip hop instrumentals on Well Cut Records. We asked him to talk us through it, Track By Track. 
'Cows on a Beach' is a compilation of jazz influenced beats that I've made, re-made and re-tweaked over the last 20 years or so. As a concept it's almost come together twice in the past, but lockdown really galvanised my resolve to get it done! When I was putting the album together I was sent a picture taken by Bob 'Bobzilla' Page of cows feeding on seaweed on the beach in N. Yorkshire. It struck me as a visual metaphor; perhaps not what you might immediately expect to find in this environment… but why not? Here's my 'track by track' run through.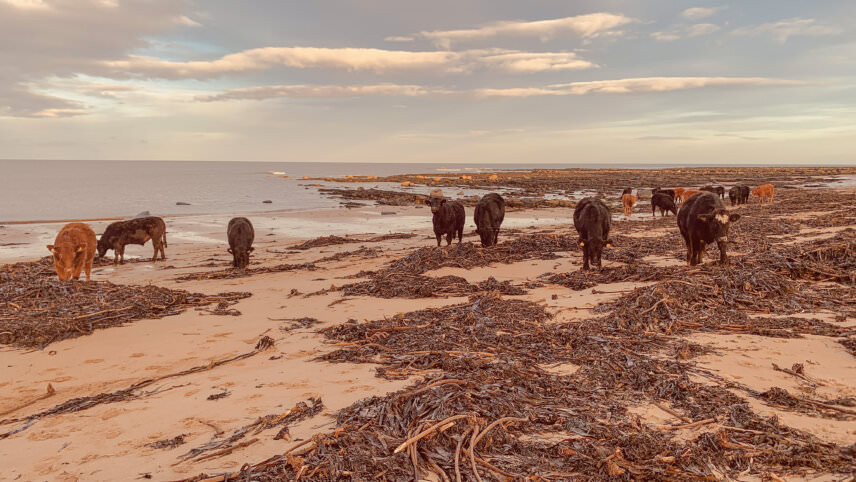 Love n' Smoke
The main piano loop in the beats of this track was initially from a charity shop found obscure British jazz album that I found whilst on tour with Rae and Christian. There were 14-16 of us on a bus, almost everyone a vinyl addict and beat maker so wherever we would arrive there would be a mad dash (or if it was early morning very quiet tip toe to try not to wake the others) to plunder the record and charity shops of whichever town or city it was in the quest for unusual 'breaks' or collectable records. This record was in pretty bad condition so I ended up filtering the sample quite heavily and doubling it using a virtual instrument, which nonetheless gave it a certain 'vibe'. The double bass was played by a friend, Jon Thorne who I was doing a lot of jazz gigs with at that point. He was playing with the band Lamb at the time but is now a very highly regarded artist and composer in his own right as well as very much in demand as a session musician. He's quite tall (as is the bass) and it was a real struggle getting him into my basement studio to record. I think he ended up sitting down with the instrument at an angle! The drums are me. A super simple little jazz kit: a wire brush on a 'sizzle' cymbal, cross stick on the snare and a small jazz bass drum, then re sampled and quantized as I tend to do with most of my drums and percussion.
The spoken word was a rule breaker for me at the time – I would only ever sample from vinyl, but a friend, Bev (you might know her as 'Veba' for her singing prowess with the likes of Rae and Christian and Groove Armada) had recently replaced a mini disc player (!) that she had borrowed and broken some years before which I had left on a table next to the TV (what use was a mini disc player by then?). By chance I was watching an Elvis Costello TV special from the Apollo in Harlem and he had Smokey Robinson on to perform and interview. He asked Smokey why he had never really followed the route of writing protest songs during the civil rights era and chose to focus on 'love songs'. I scrambled for the mini disc to hit record and caught his amazing answer. When putting this album together during lockdown it felt like the perfect opener to set the tone.
Wanted
'Wanted' is a (North?) West coast slant on a Marvin vibe. Everything cut up MPC style, but using the 'SliceX' sampler in FL studio, something I use to write much of what I do beats wise, though everything is usually finally mixed down in Cubase. The drums are all given the crunch with UAD 1176 compression (so good, I'm tending to use the Distressor on everything these days!) and the weight and crispness given by UAD Pultec emulation and the (Neve) preamps and EQ on my vintage AMEK BC3 desk, which was actually built just a couple of miles down the road in Salford. The 'lead' line was played on a Yamaha CS-5 synth which came complete with joint ash and coffee cup rings from my next door-but-one neighbour and was 'thickened' up through a TL Audio Indigo valve channel.
Quiver
'Quiver' is a deep and dark string workout. As I remember a lot of the significant samples were from various albums on the CTi label which were then re-pitched and 'played'.  I really loved the tension that the bowed notes brought. If you're not familiar with CTi it was a jazz label founded by producer Creed Taylor in the late 60s which put out some amazing sounding records featuring some of the hippest musicians of the era, but often with the addition of orchestral arrangements, all recorded beautifully at the legendary Van Gelder studios: Samplers' delight! 🙂 The drums are cut ups of the legendary Billy Cobham, again using 'hits' then quite heavy processing and some pitching to give them that weight. The bass line is double bass again, This time played by another friend, Frank Grime who has appeared on some of my 'Balaphonic' releases, but here I used a couple of notes sampled from a take from another session. 
Woo Ha!
'Woo Ha!' is one of the hundreds of simple loops I always have going on 'in the background' whilst working on other projects. I'll sometimes flit back and forth between 5 or 6 ideas like this, making tweaks, bouncing ideas around. Some things will take flight into more complex arrangements or mixes, some things remain very simple and static and hypnotic, but I can get really drawn into them and listen to them for hours. (Yes, lots of weed has been involved at various stages!). One of my earliest influences in terms of Hip Hop production was Pete Rock. I loved all the little interludes that he would put between tracks on his albums, later on Dilla too. Sometimes something super simple and super short can make a point and have an effect in a very direct way, and in terms of an album 'refresh' the ears. Similarly whilst producing, particularly in that a lot of my time can be spent working on relatively long 'DJ friendly' mixes on the Housier side of things.
Era
'Era' is another quite cheeky little beat. A nod to the many hundreds of  weddings I would play as a jazz musician, performing all the standards by the greats, then coming home to make beats (and often go out clubbing). A simple line from 'Cheek to Cheek', some rough drums and Sinatra signing off, 'Kick your shoes off baby!'.  Indeed. We're only just getting into it. This reminds me of some of the quirkier early Mr. Scruff and Treva Whateva beats. That 'Stockport' sound perhaps? 🙂
Bead
…and now to dive back in deep! 'Bead' is a collage of detuned and retuned, dusty Jazz samples. The flute solos were spun in off a deck, the pad sounds and high strings made of very short loops and the bigger string sections amalgamated from various other sources. The drums are for the most part played on Roland V drums. I have a very early set (TD-10) which I'll often use in combination with 'real' drums. I think I hadn't had them long when I recorded them here, layering them with some other loops I made, I wanted to give the whole thing a floating 'otherworldly' feel.
Q Soundz
'Q Soundz' is really in homage to a lot of the early Mo' Wax records, (in fact there's a very cheeky nod in there for the initiated!), I loved the whole aesthetic of that label. Again, super crackly drums given some very rough treatment. The subby sounds are also drum sounds detuned super low. Sometimes I'll find a loop from a record that I really like but then stretch it or play it backwards then re play/pitch it. That's what the main 'hook' loop is. The jazzy piano and horn stabs are hits from random jazz vinyl sources, pitched to fit. I love finding Hip Hop beats that I can use in DJ sets when playing at 'Housier' tempos. This was very much such a 'tool' for me when I first made it.
Heroin
'Heroin', another dusty Jazz swinger, layers of 'real' and sampled drums and a poppin' bongo 'martillo'. This one's definitely all about that swing, nice and simple.

Bodyworx
'Bodyworx' is another interlude beat, a short loop taken from the start of a sample that only plays out the end. A Dilla tactic. Such an influence in so many ways.
Niceness
'Niceness' has a 'soundtrack' feel, if ever there was a hip hop western… melancholic but warm, another simple beat using vinyl samples and letting the crackles set the tone.
Dismalia
'Dismalia' was initially made a long time ago. The initial drums are layered loops of me playing live. I spent a couple of years in the 1990s working with an amazing engineer and great friend Danny Evans (for the last few albums and tours he has been exclusively engineering everything that Elbow have done) recording drums and loops for a sample cd and 'breaks' vinyl release. We took lots of different drum kits and experimented with different rooms, different mic techniques and different processing. It was an incredible learning experience for me and the loops found themselves on all sorts of records and led to me working directly with the likes of Rae and Christian and Fila Brazilia amongst others. I also 'scratched in' some drums (I'm no turntablist, it was all neatened up after). The main loops here are Fender Rhodes samples for the groove and the horn section's a result of my trying to collect as many heavily orchestrated jazz and fusion records as I could get my hands on at the time.
Easy
After the heavy, dense and darkness of Dismalia, a light jazz sampling 'Easy' beat to bring the smiles back before getting back into…
0161
'0161': dark and intense, I initially used these beats with a cut-up speech of Louis Farrakhan which he made in warning to the American people prior to Trump's election as president. (You can find that version via Soundcloud and Bandcamp, called 'Be Careful, America). I was a big fan of breakbeat hardcore and in many ways, though a lot slower this is an aesthetic nod in that direction, particularly with the warm pads that arrive in the breakdown to bring a feeling of hope back amidst the darkness.
Bumble
'Bumble' is a nod to Yusef Lateef, a multi instrumental jazz musician responsible for some of the most beautiful 'spiritual jazz' records, but also some very interesting collaborations and arrangements, one for the 'heads' it's another interlude to take us to…
Sliced
'Sliced'-another early beat, dark and brooding. When Danny Evans and I were recording drums we were re sampling a lot of them on the EMU e6400. Danny sliced a loop and spread it out along a keyboard, playing it back via MIDI but using the pitch control wheel to modulate the sounds. It had a great effect. I re-sliced those drums here which is how you get that 'bounce' effect, especially on the kick. The 'gotta get some attention' vocal sample loop is very much about saying 'yeah, check THIS shit out!' 🙂
Peace
'Peace' is a much longer and involved track, again layering a lot of orchestral sounds and using both backward and forward reverbs to effect. The basis of the drum groove is a very earthy bossa nova – I'm a huge fan of Brazilian music of all kinds but have a particular soft spot for bossa nova. It's juxtaposed by the Cr78 type hats which came off a Farfisa home organ that we had as kids (The 'Matador 80' – Graham Massey is a particular fan of them) then builds with some more heavily compressed and chopped up loops of me playing.  Although still quite dark in many ways I was trying to make the overall mood uplifting and hopeful.
Swingin
'Swingin', doing what it says on the tin, and again a bit of cheek to bring us back into the room before getting really gritty with…
Boxer
…'Boxer' which is a nod to my friends and co-conspirators Fingathing: turntablist Dan 'Peter Parker' Baxter and double bassist, composer and artist, 'Sneaky'. We were all part of the aforementioned Rae and Christian/Grand Central Records touring band which also featured The Pharcyde, Q n C, Krim, Spikey Tee, Veba and more at various stages and led to other collaborations for me. When I was first getting set up in the basement in which I still make music they came around for a jam which was recorded in a very lo-fi and rough fashion. I cut up bits of it afterwards to use to make this track. The triplet cuts towards the end of the track are a very 'Fingathing' thing!
Roxy
'Roxy' is a lush, slinky slow groove. Lots of layered loops, driven by some dusty guitar picking, punctuated by cut up muted big band horns before a dreamy flute breakdown. I have played this out a lot in bars and on beaches. A nice note to bring the album to a close.
Old
'Old' is a brief but heartfelt and  tearful farewell. Another of those loops that I could listen to for hours (and did!). I love the texture of the layered horns and piano motif.
'Cows On A Beach' by Vault is available on Bandcamp.